Paoli Hospital is first hospital in Chester County to offer vital service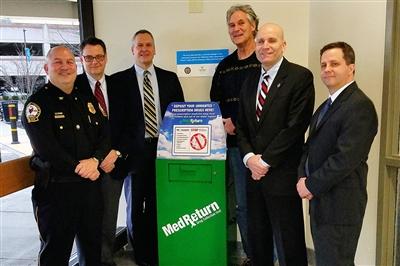 (Paoli, Pa.) – Paoli Hospital, part of Main Line Health, installed a prescription medicine drop box to properly and anonymously dispose of unneeded, unwanted or expired medications. Paoli Hospital partnered with the Chester County District Attorney's office and the Willistown Township Police Department to become the first Chester County hospital to be fitted with a prescription medicine drop box.
"The drug disposal box program continues to be a success in Chester County," explains Chester County District Attorney Tom Hogan. "The safe disposal of prescription medication, especially powerful opioids, keeps these drugs from getting into the wrong hands. We are protecting both our children and our environment, two goals everybody supports."
The drop box, located in the Paoli Hospital valet lobby, offers a secure way to properly dispose of any type of medicine, keeping drugs safe from misuse while also protecting the environment.
"We have come a long way from flushing unwanted pills down the drain into the water system," says Jim Paradis, president, Paoli Hospital, Main Line Health. "Installing this box won't completely solve this problem, but it's one more step in the right direction, and it gives us an opportunity to continue our efforts to combat the crisis in our community."
Paoli Hospital joins Lankenau Medical Center, Bryn Mawr Hospital and Riddle Hospital as now all Main Line Health hospitals that have been outfitted with a prescription medicine drop box. The drop box, monitored by Paoli Hospital security staff, will be emptied monthly by the Willistown Township Police Department. Other prescription medicine drop box locations in Chester County include:
Caln Township Police Department, 253 Municipal Drive, Thorndale, PA 19320
Tredyffrin Township Police Department, 1100 DuPortail Road, Berwyn, PA 19312
City of Coatesville Police Department, 1 City Hall, Coatesville, PA 19320
Valley Township Police Department, 890 West Lincoln Highway, Coatesville, PA 19320
East Brandywine Township Police Department, 1212 Horseshoe Pike, Downingtown, PA 19335
Upper Uwchlan Township Police Department, 140 Pottstown Pike, Chester Springs, PA 19425
Easttown Township Police Department, 566 Beaumont Road, Devon, PA 19333
West Brandywine Township Police Department, 198 Lafayette Road, Coatesville, PA 19320
Kennett Square Borough Police Department, 115 North Broad Street, Kennett Square, PA 19348
West Caln Township Police Department, 721 West Kings Highway, Coatesville, PA 19320
New Garden Township Police Department, 8934 Gap Newport Pike, Landenberg, PA 19350
West Chester University Police Department, 690 South Church Street, West Chester, PA 19383
North Coventry Township Police Department, 845 South Hanover Street, Pottstown, PA 19464
West Goshen Township Police Department, 1025 Paoli Pike, West Chester, PA 19382
Oxford Borough Police Department, 57 North Fourth Street, Oxford, PA 19363
West Vincent Township Police Department, 729 Saint Matthews Road, Chester Springs, PA 19425
Parkesburg Borough Police Department, 315 West First Avenue, Bldg. 2, Parkesburg, PA 19365
West Whiteland Township Police Department, 101 Commerce Drive, Exton, PA 19341
Phoenixville Borough Police Department, 351 Bridge Street, Phoenixville, PA 19460
Westtown-East Goshen Regional Police Department, 1041 Wilmington Pike, West Chester, PA 19382
Sheriff's Office, Chester County Justice Center, 201 West Market Street, West Chester, PA 19380
Willistown Township Police Department, 688 Sugartown Road, Malvern, PA 19355