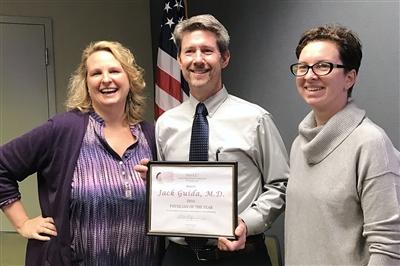 The Pennsylvania Resource Organization for Lactation Consultants (PRO-LC) has selected Dr. Jack Guida to be the 2016 "Physician of the Year" for his outstanding advocacy and work which supports, promotes, and protects breastfeeding. Dr. Guida has been a neonatologist with Nemours Children's Health System since 2003 and is affiliated with Main Line Health and their sites at Lankenau Medical Center, Bryn Mawr Hospital and Paoli Hospital.
Nominated by Donna Sinnott, board-certified lactation consultant and chair of the Main Line Health Lactation Committee, Dr. Guida was selected because his research projects have positively shifted several key policies that affect breastfeeding and immediate skin to skin between mother and baby after delivery. For one project, he reviewed years of NICU admissions to determine if in fact the current protocol was protective of those at risk infants with hypoglycemia. After reviewing the data, his research was a change agent across the system, so more babies can go to immediate and uninterrupted skin to skin and have an increased opportunity to be exclusively breastfed. His second project was the introduction of Glucose Gel as an alternative to infant formula to help to raise blood sugars in those babies who remain at risk.
Upon accepting the award at the PRO-LC's local chapter meeting, Dr. Guida spoke about his support for the use of mother's own milk and donor milk for premature infants in Main Line Health's Neonatal Intensive Care Units. He shared how the support for mother's own milk and the introduction of donor human milk have decreased infant complications from certain diseases that affect the most vulnerable of infants.
To read more on current hospital-based initiatives in Pennsylvania and Main Line Health check out the Keystone 10 Program at health.pa.gov.