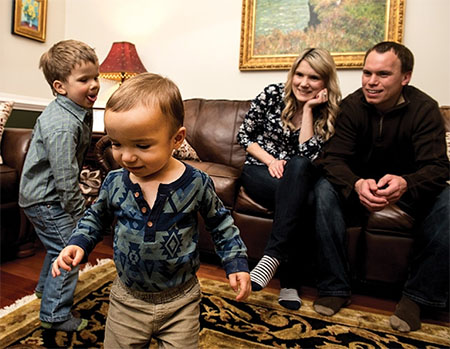 Mary Naggy lived with heart palpitations for years, but as she was pregnant with her second child, she learned that her issue was much more serious. She had a large atrial septal defect, which is a hole in the wall that separates the heart's upper chamber.
She turned to Dr. Andrew Gerson, chief of maternal and fetal medicine at Lankenau Medical Center, and Dr. Konstadinos Plestis, system chief of cardiothoracic and vascular surgery at the Lankenau Heart Institute.
Heart palpitations would have many people dialing 911. But Mary Naggy had palpitations for years, and doctors told her they were normal. They even dismissed the heart murmur that was detected when Naggy was 2 years old.
By the time she was 34, Naggy considered the palpitations more of an annoyance than a cause for concern. But because she was four months pregnant with her second child and wanted to be extra careful, she mentioned the palpitations to her general practitioner, Dr. Jason Conwell of Main Line HealthCare Family Medicine at Exton Square. Conwell ordered an echocardiogram, an ultrasound of the heart. The results were shocking.
Naggy had an atrial septal defect, a hole in the wall that separates the heart's upper chambers. Some ASD holes are small, but Naggy's was large, causing Naggy's palpitations and murmur.
The majority of ASD cases are diagnosed in childhood and repaired through relatively standard surgery—also the solution for Naggy's condition. If left untreated, the hole expands, enlarging the heart to unsafe proportions.
Naggy's pregnancy was putting extra strain on her heart. Blood volume increases, making the heart work harder. That's why many pregnant women have palpitations. But the situation was more serious for Naggy, and she became a high-risk pregnancy. "What hit me hardest was that this had been in my body all along," she says. "What if Dr. Conwell hadn't ordered that echocardiogram?"