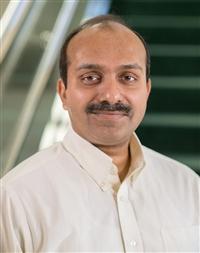 Sunil Thomas, PhD, a research assistant professor who specializes in immunology at the Lankenau Institute for Medical Research (LIMR), released in January Rickettsiales: Biology, Molecular Biology, Epidemiology, and Vaccine Development (Springer), the first comprehensive book that covers every genera of the order Rickettsiales, small proteobacteria that are known to cause diseases in humans and animals.
Insect-transmitted Rickettsiales diseases are significant sources of morbidity and mortality around the world. Their incidence has been increasing in recent years in large part due to climate change and the movement of animals carrying the insect vectors. Currently there are no effective vaccines against diseases caused by members of the order Rickettsiales. Moreover, Rickettsiales diseases are often misdiagnosed.
"The book is intended to serve as a tool for students, researchers, professors and health care practitioners seeking to understand and diagnose diseases caused by Rickettsiales," noted Dr. Thomas, who specializes in translational research, which applies findings from basic science into medical practice.
Chapters in the book have been contributed by leading scientists and professors in Rickettsiology and cover the seven main genera: Anaplasma, Ehrlichia, Midichloria, Neorickettsia, Orientia, Rickettsia and Wolbachia. Discussion of each genus includes immunology and molecular biology of host-pathogen interactions, epidemiology and diagnosis, and vaccination strategies and therapies.
During his career in immunology, Dr. Thomas has developed numerous therapeutic and diagnostic techniques and has been awarded several patents for his ground-breaking work. He is also the editor of Vaccine Design: Methods and Protocols (Springer), a two-volume textbook on vaccines.