Their studies reveal new possibilities for therapeutic relevance to cancer, other inflammatory disorders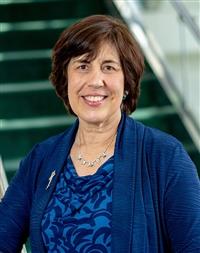 Chemotherapy to treat ovarian tumors can be improved through combination with a blood thinner, according to a recent preclinical study led by Main Line Health's Lankenau Institute for Medical Research (LIMR) scientists Susan Gilmour, PhD, and Eric Alexander, PhD, as published recently in Oncotarget, a leading biomedical journal. The blood thinner used in the study, dabigatran etexilate (Pradaxa®), was pioneered in clinical trials several years ago at LIMR.
Cancer patients are at a markedly increased risk for developing blood clots, and chemotherapy exacerbates that risk. The researchers hypothesized that Pradaxa, combined with the widely used chemotherapy drug cisplatin, could cooperate to stop the growth of primary ovarian tumors and the development of malignant ascites, a fluid mix of tumor cells, growth factors and immune cells. Development of ascites is common in ovarian cancer patients, where this event is associated with poor prognosis and reduced quality of life, the researchers noted.
With a five-year survival rate of just 27 percent, ovarian cancer has the highest mortality rate worldwide of the gynecologic cancers. More than one third of ovarian cancer patients present with malignant ascites at diagnosis.
"Our studies showed that co-treatment with dabigatran etexilate and cisplatin not only inhibited ovarian tumor growth in mice, it also reduced the development of malignant ascites when compared to treatment with either therapy alone," said Dr. Gilmour, who served as the Principal Investigator of the study. "These studies will provide important groundwork to extend the use of this new oral anti-coagulant in cancer patients, not only to treat their higher incidence of blood clots and pulmonary embolisms but also to hopefully inhibit tumor progression."
Co-treatment impacts tumor microenvironment
The researchers found that the co-treatment modulated the tumor microenvironment in notable ways. It decreased certain types of cytokines, or molecular messengers, that promote tumor development. It also reduced the population of suppressor cells, which act to stop the immune system from recognizing and killing cancer cells, and it appears to activate T cells that can attack tumor cells.
"Of particular importance was the novel discovery that the anti-tumor effect of co-treatment was associated with dramatic immunomodulatory effects including decreased levels of proinflammatory cytokines, reduced immunosuppressive myeloid cell populations in the ascites, and a concomitant increase in CD8+ T cell antitumor activity," wrote the study's authors.
Their results indicate that a combined treatment of dabigatran etexilate and cisplatin may be a more effective treatment than either drug alone, and the authors called for safety and efficacy studies in humans to confirm the hypothesis.
Other LIMR authors of the study include biomedical research associates Allyson Minton and Molly Peters. Joanne van Ryn, PhD, of the German pharmaceutical company Boehringer Ingelheim Pharma GmbH & Co., also contributed to the research. Dr. Gilmour's lab has received funding from Boehringer.
The study entitled "Thrombin inhibition and cisplatin block tumor progression in ovarian cancer by alleviating the immunosuppressive microenvironment" is available online in full.
LIMR's role in Pradaxa's developments
Beginning in 2006, LIMR served as the U.S. organizing site for the Phase III clinical trial of Pradaxa that eventually led to its registration with the U.S. Food and Drug Administration as a new drug entity in 2010. This international trial had three organizing sites and included approximately 18,000 patients worldwide, including about 5,000 patients in the United States coordinated through LIMR.