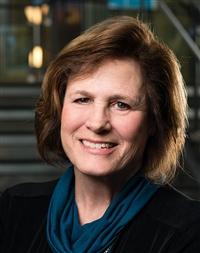 After a five-month-long national search, Kay Carr has been named the senior vice president and chief information officer at Main Line Health. Carr has been serving in the role in an interim capacity since July 2016, when Karen Thomas retired from the system.
"Since Kay has been serving in this role, her expertise and guidance as a senior technology leader has proven to be a tremendous asset to Main Line Health," says Jack Lynch, president and chief executive officer, Main Line Health. "With a wealth of experience working within complex integrated health systems, Kay has proven to be a strong leader in the information technology sector. Her knowledge, capabilities and experience will be sure to benefit our system as it continues its clinical and organizational transformation to deliver evidence-based practice that is safe, efficient and of the highest quality."
In her new role, Carr is responsible for the planning, implementation and support for Information Technology (IT) at Main Line Health, which also includes telecommunications and audiovisual support. Carr will play a critical role as a member of the PIVOT (Promote Innovation by Valuing Organizational Transformation) Project Executive Steer as Main Line Health works toward the implementation of Epic as its single, integrated electronic medical record system. Likewise, Carr will continue to identify opportunities for competitive differentiation through the use of technology, while managing a highly efficient technology environment that effectively supports operations.
Carr brings an extensive health care IT leadership background to her role at Main Line Health. She is an accomplished leader in identifying opportunities to use technology to enable an organization to transform to meet strategic, quality and financial goals. She spent the last four years with Encore, a leading national health care IT consulting firm, where she worked with several health systems as an interim CIO. Prior to joining Encore, Carr was the CIO at St. Luke's Episcopal Health System in Houston for 13 years.
A certified CPA, Carr received both her bachelor of arts degree and a master's degree in library science from Louisiana State University. She has been a member of the College of Healthcare Information Management Executives, the Healthcare Information Management Systems Society, and the Inaugural Advisory Board of Hospital and Health Networks Most Wired magazine.