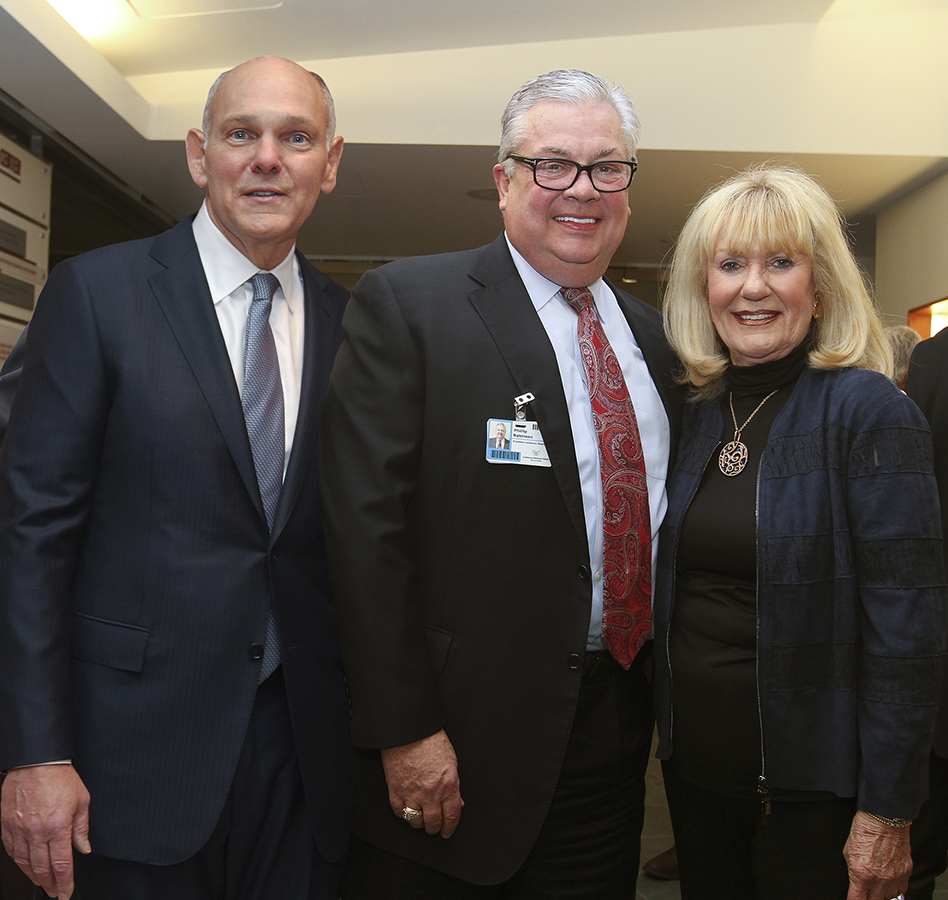 On Thursday evening, November 10, 2016, Lankenau Medical Center, part of Main Line Health, celebrated the establishment of the Barbara Brodsky Chief of Surgery Chair at Lankenau Medical Center, established by Mrs. Barbara "Bobbi" Brodsky. The first incumbent chairholder is Ned Z. Carp, MD, FACS, chief of surgery at Lankenau and vice chair of surgery, Clinical Operations, Main Line Health.
The Brodsky Chair, Lankenau's ninth endowed chair, was made through the combination of a $1 million gift from Mrs. Brodsky, leading Lankenau benefactor, that was matched by a $1 million grant from the Lankenau Medical Center Foundation through its $1 million+ matching initiative. An endowed chair is established through a special philanthropic gift to the institution and provides invaluable ongoing support for the holder's research, teaching, or service activities, and helps attract and retain superior staff by offering them the opportunity to advance knowledge in their specialty, which ultimately enhances patient care. Named by the donor, the chair is established in perpetuity.
Bobbi Brodsky, along with her late husband, Harvey, has a long and illustrious history with Lankenau. This dates back to Harvey's late parents, Eva and David Brodsky. More recently Bobbi and Harvey's daughter, the late Lori Brodsky, was an esteemed and devoted volunteer at Lankenau, affectionately referred to as the "Mayor of Lankenau." With remarkable spirit of goodwill and gratitude, Harvey and Bobbi made Lankenau beneficiary of their exceptional philanthropy. Lankenau is privileged to be among many local, national and international entities honored by the charitable support of Bobbi Brodsky.
"The impact of Bobbi's generosity to Lankenau's mission to deliver excellence in clinical care, research, and education is far reaching," said Lankenau President Phillip D. Robinson, FACHE. "Examples of Bobbi's largesse include million dollar gifts to create the Brodsky Bridge skywalk connector in the new Heart Pavilion and the magnificent Barbara Brodsky Suites—eight concierge-style inpatient rooms, where patients' friends and family find added comfort in luxurious accommodations."
Brodsky has extended this patronage to Lankenau's cardiovascular research and initiatives in the Lankenau Institute for Medical Research including cancer, multiple sclerosis, Parkinson's and movement disorders. In 2010, Bobbi created a $500,000 endowment—the Barbara Brodsky Fellowship in Clinical Cardiac Electrophysiology—a gift made in honor of Lankenau Electrophysiology physician, Dr. Peter R. Kowey.