Mother whose son was born prematurely at Lankenau authored children's book and serves as health advocate for babies and children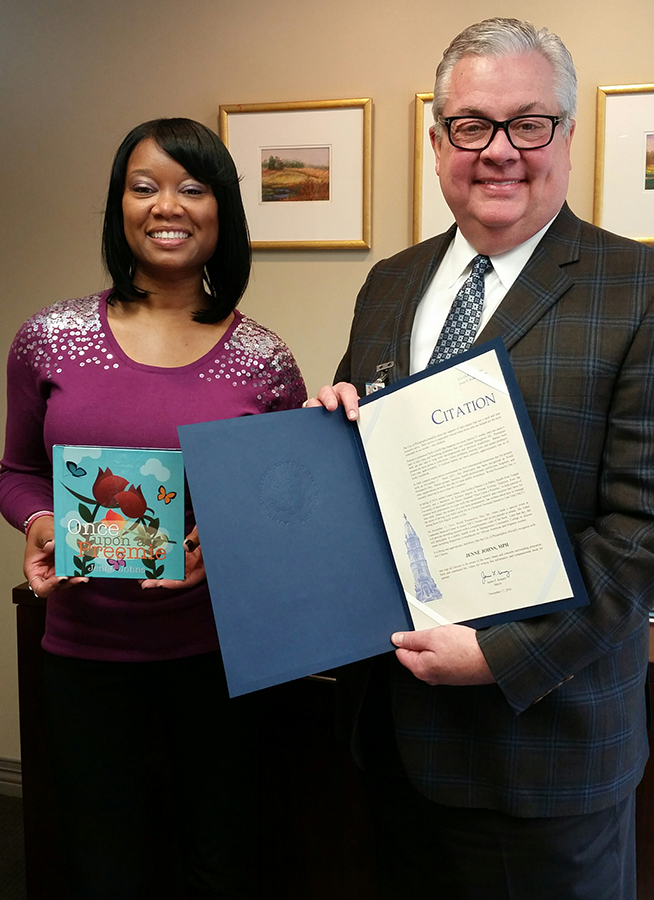 Jenné Johns, MPH, author of Once Upon a Preemie, visited Lankenau Medical Center on Thursday, November 17, 2016, in honor of World Prematurity Day, to present the Lankenau Neonatal Intensive Care Unit (NICU) with 30 books to gift to parents of prematurely born children. Although Jenné has been working in the health care field for many years, her personal mission as an advocate for babies and children's health was intensified after her life-changing experience of nurturing her son who was born prematurely at Lankenau Medical Center.
"We are so honored that Jenné came back to Lankenau to donate copies of her extremely powerful book for parents of children born prematurely," says Phil Robinson, president of Lankenau Medical Center. "Jenné is working to make a difference in the lives of so many in the Philadelphia area, and serves as an advocate for the health care needs of our community. For that, we are incredibly grateful."
Once Upon a Preemie is a short and inspiring book written for parents whose children are born prematurely and require time spent in the NICU. The book is a bedside companion to support parents during their child's fragile hospital journey. The book is spiritually-based and offers encouraging messages of hope, faith and love.
Visit the Once Upon a Preemie website for more information about Jenné and her book. Visit our website for information about maternity services at Lankenau Medical Center and across Main Line Health.