(Wynnewood, Pa.) – On November 2, 2016, the Lankenau Heart Institute's Women's Heart Initiative hosted an educational program for women in our community titled, Learn. Act. Live. Every woman's guide to a heart-healthy life.
Women's Heart Initiative is a comprehensive health care program specifically dedicated to education and awareness about women's heart care. The goal is to empower women to Learn, Act, and Live—to help women recognize the warning signs of heart disease and encourage them to have open discussions with their physicians about their heart care.
The two-part event featured an hour of hors d'oeuvres and interactive educational display tables representing the various cardiology and cardiac surgery programs, innovative clinical trials and new technologies available to heart disease patients across Main Line Health.
More than 125 attendees had the opportunity to talk to a fitness specialist, undergo a blood pressure or BMI screening, and talk with various members of the Lankenau Heart Institute team.
The evening included six breakout sessions that offered information and a panel on a variety of heart health topics, including:
Carol Cutler, who was treated at Lankenau following a heart attack, addressed the attendees about the importance of listening to their body and making their health a priority.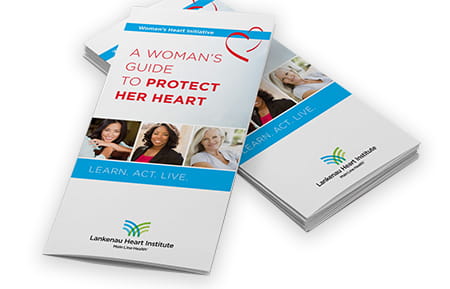 The event also featured the unveiling of A woman's guide to protect her heart, an educational guidebook created by Women's Heart Initiative. The guide will be given to female patients across Main Line Health in an effort to help manage and prevent heart disease, and includes information about topics like heart attack and stroke, how cancer treatment can affect your heart, and how menopause can impact your heart disease risk.
Despite the increase in awareness, still too often women do not recognize their heart attack symptoms early enough, did not realize they had serious risk factors for heart disease or their symptoms were dismissed by health care providers.
For more information, visit the Women's Heart Initiative website, where you can also view a photo gallery from the event or download a free copy of our educational guidebook.