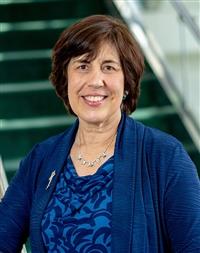 A new therapeutic approach to blocking the development and progression of the childhood cancer neuroblastoma has been proposed by Susan Gilmour, PhD, professor at Main Line Health's Lankenau Institute for Medical Research (LIMR), and her colleagues in a multi-institutional study that was led by Michael Hogarty, MD, of the Children's Hospital of Philadelphia (CHOP).
Neuroblastoma, a type of cancer that starts in early forms of nerve cells found in an embryo or fetus, occurs most often in infants and young children, according to the American Cancer Society. Most new patients are just 1 or 2 years old, with nearly 90 percent diagnosed before age 5. The disease accounts for about six percent of all cancers in children, and approximately 700 new cases occur each year. In most cases the disease has already metastasized when it is diagnosed; hence there is an urgent need to find therapies that block its development and progression.
The researchers, whose study was published in a recent edition of the journal Clinical Cancer Research, found that therapies that disrupt polyamines (ubiquitous, small molecules that are essential for all cell growth and proliferation) stopped neuroblastoma development and progression in preclinical studies.
"Our studies demonstrated that therapies that depleted tumoral polyamines effectively blocked tumor initiation and even shrunk established neuroblastoma tumors in our mouse models," said Dr. Gilmour, a cancer researcher. "This study has significant clinical relevance because it demonstrates a new strategy to improve the anti-tumor activity of existing chemotherapy for the most deadly forms of neuroblastoma."
The researchers showed that adding the polyamine-inhibiting drugs difluoromethylornithine and celecoxib to a chemopreventive regime improved survival rates among mice with neuroblastoma.
Dr. Gilmour, whose research focuses on polyamines, has shown in many previous studies that the cellular content of polyamines is highly regulated in normal cells, and their dysregulation contributes to many disease states. Her expertise in this field is internationally recognized. This past fall, for example, she was invited to speak about polyamines and cancer at two conferences, the International Conference on Polyamines: Biochemical, Physiological and Clinical Perspectives held in Rome, Italy; and at the International Skin Carcinogenesis Conference held at the University of Minnesota, Austin.
In addition to those at CHOP, Dr. Gilmour's colleagues in the neuroblastoma study included researchers from the Perelman School of Medicine at the University of Pennsylvania, Temple University School of Medicine, University of Texas Southwestern Medical Center and several research institutes in Australia. Their work was funded by the U.S. Department of Defense, the National Health and Medical Research Council (Australia), and several private foundations. View the available abstract of the article here. (PDF)