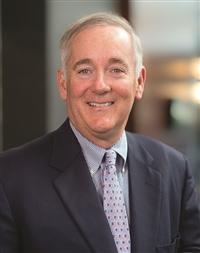 Jack Lynch, president and CEO of Main Line Health, was recently named to Philadelphia Business Journal's "Power 76" list and was included in Philadelphia magazine's "Innovation 2016" list, both of which came out in October.
Philadelphia Business Journal's Power 76 is a guide to the region's most influential people. The list includes influential leaders who have the most impact in shaping the future of Philadelphia. Highlighted in Lynch's profile was the numerous expansion projects Main Line Health has undergone since Lynch began serving as the system's CEO in 2005, as well as the fact that Main Line Health hospitals have been among the most profitable and of the highest quality in the region in recent years.
Philadelphia magazine's Innovation 2016 lists leaders who have made bold thinking the new way to do business in Philly. As part of the list, each brilliant, local mind shares their big ideas—Lynch's profile was focused on creating a culture of empathy across Main Line Health. When asked how Main Line Health hospitals received such good ratings in the federal government's recent star quality ratings, Lynch replied: "We take good care of our staff, so they'll feel compelled to take great care of our patients. Lots of hospitals do a really good job. To take it to the five-star level, you've got to treat patients like family members." He also added that "our number one priority is to identify and ameliorate disparities of care."
To schedule an appointment with a specialist at Main Line Health, call 1.866.CALL.MLH (1.866.225.5654) or use our secure online appointment request form.