On Wednesday, September 28, 2016, Bryn Mawr Rehabilitation Hospital, part of Main Line Health, hosted the 2016 First Swing Golf Clinic, in partnership with the Eastern Amputee Golf Association (EAGA) and RiverCrest Golf Club & Preserve. Despite the rainy weather, 23 eager golfers took part in the clinic, and a representative from the EAGA, four RiverCrest Golf pros, and 16 staff members from Bryn Mawr Rehab Hospital helped out with the lessons throughout the day. The diversity of participants included individuals with amputation, stroke, brain injury, and spinal cord injury. Some participants had never golfed before, while others were back on the course for the first time since their injury/illness.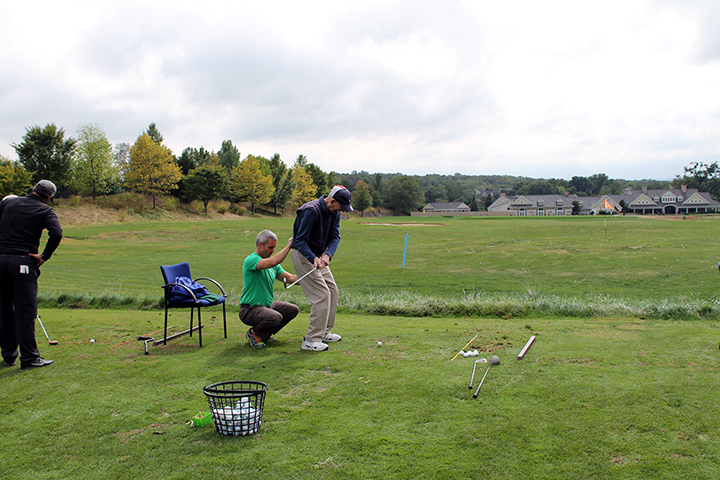 "The golf event is truly inspiring and reminds us all why we chose to work at a place like Bryn Mawr Rehab Hospital. The diversity and number of the participants and the commitment of staff makes this an event that we hope will continue to grow even more in the coming years" said Clare Small-McEvoy, director of therapy services, Bryn Mawr Rehab Hospital.
Bryn Mawr Rehab Hospital offered this program at no cost to participants through the generous support from sponsors, including Lawall Prosthetic & Orthotic Services; Kinetic Prosthetics; BOAS Surgical; Brandywine Living; Cocco Enterprises, Inc.; Prosthetic Innovations, LLC; Baylinks Golf; Dick's Sporting Goods, Inc.; Eastern Amputee Golf Association and RiverCrest Golf Club & Preserve.
The Eastern Amputee Golf Association's objective is to assist in the rehabilitation of amputees and provide for their general welfare, both physical and psychological, through the medium of golf and its associated activities.