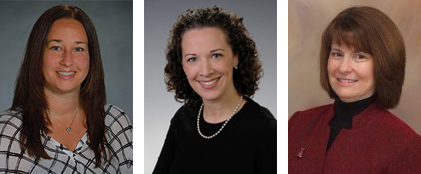 Three Paoli Hospital nurses have been named as 2016 GEM Mid-Atlantic states finalists by Nurse.com. The 30 finalists are selected by nursing leaders from among the nominations received this year.
The Paoli Hospital, part of Main Line Health, finalists are:
Excellence in Clinical Nursing category – Dawn Morris, BSN, RN, PCCN, RN-BC, Staff Nurse
Excellence in Community Care category – Meghan Walker, MSN, RN, CBCN, Breast Nurse Navigator
Excellence in Education and Mentorship category – Cathleen Vandenbraak, MBA, BSN, MHA, CERN, CCRN, CFRN, Nursing Supervisor, Paoli Hospital, and Nurse Clinical Education Coordinator, JeffSTAT, Thomas Jefferson University Hospital, Philadelphia
Each year, Nurse.com conducts a nationwide search for the best of the best in nursing, generating hundreds of nominations highlighting stories of excellence in leadership, management, education, volunteerism and clinical practice. Nurse leaders serve as judges in scoring the nominations. In the spring, GEM Award events are held in cities nationwide at which finalists are honored and regional winners are announced. In the summer, six nurses from among the regional winners are named national winners, and they are honored with congratulatory receptions at their workplaces in the fall.
Read the nominations of each finalist on the Nurse.com website.