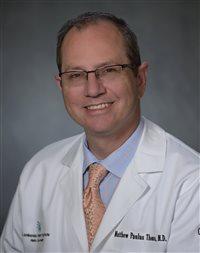 Main Line HealthCare (MLHC) and the physicians of the Lankenau Heart Group are pleased to welcome Matthew Paulus Thomas, MD, to the practice.
Dr. Thomas, a Philadelphia native, earned his medical degree from Temple University School of Medicine in Philadelphia. He completed his General Surgery Residency at Albert Einstein Medical Center, in Philadelphia; and his Cardiothoracic Surgical Residency at Allegheny General Hospital in Pittsburgh.
He has lectured nationally for over a decade on various cardiac surgical topics and has written numerous publications covering a variety of topics in peer reviewed journals.
Most recently, after obtaining his certification from the American Board of Thoracic Surgery, Dr. Thomas returned to Philadelphia to further his expertise in minimally invasive cardiac surgery techniques, working with the cardiac surgeons at Main Line Health, under the direction of Konstadinos Plestis, MD, System Chief of Cardiothoracic and Vascular Surgery, Lankenau Heart Institute.
Dr. Thomas is currently accepting new patients, and the practice participates in most insurance plans, including HMOs and PPOs. To schedule an appointment with Dr. Thomas, or for more information about the practice, call 484.476.1000 or visit the Lankenau Heart Group practice page.
Lankenau Heart Group is conveniently located in the Heart Pavilion at Lankenau Medical Center, 100 East Lancaster Avenue, Wynnewood, PA 19096.