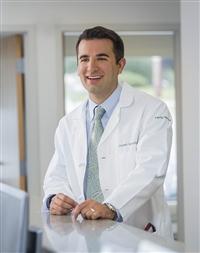 Main Line HealthCare (MLHC) and the physicians of Family Medicine in Westtown are pleased to welcome Joseph Quintiliani Jr., DO on July 18, 2016.
Dr. Quintiliani Jr. has a special interest in preventative medicine and sees patients of all ages—newborns through senior adults. He believes in a strong patient-physician partnership, focusing on trust and shared decision-making to achieve the best quality of life and wellness for each patient.
He received his medical degree from Philadelphia College of Osteopathic Medicine (PCOM) and completed a Family Medicine Residency at Crozer-Keystone Health System.
Main Line HealthCare Family Medicine in Westtown is conveniently located just off West Chester Pike at 1601 McDaniel Drive, Suite 50, West Chester, PA. Dr. Quintiliani Jr. has convenient office hours, including same-day and next-day appointments and evenings. He is currently accepting new patients and participates in most insurance plans, including HMOs and PPOs. Other physicians in the practice include: Catherine Bergan, DO; Levelle Drose-Bigatel, MD; and William Lehner, MD.
To schedule an appointment with Dr. Quintiliani Jr., or for more information about Family Medicine in Westtown, call 484.905.8000, or visit the Family Medicine in Westtown practice page.