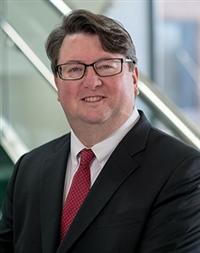 George Prendergast, PhD, president and CEO of Main Line Health's Lankenau Institute for Medical Research (LIMR), will participate as a panelist in the upcoming Cancer Moonshot Summit to be held June 29 at Fox Chase Cancer Center in Philadelphia. The Summit is part of the White House-led National Cancer Moonshot Initiative to build new collaborations and partnerships in the fight against cancer. Led by Vice President Joe Biden, the $1 billion initiative, which was first announced by President Barack Obama during his January State of the Union Address, aims to make more therapies available to more patients, while also improving physicians' ability to prevent cancer and detect it at an early stage.
Dr. Prendergast is a world-renowned cancer biologist whose LIMR laboratory studies primarily cancer genes, cancer immunology and molecular therapeutics. He also serves as co-leader of the Program in Cancer Cell Biology and Signaling at Kimmel Cancer Center of Thomas Jefferson University, and he is the Editor-in-Chief of Cancer Research, the most highly-cited journal in the field.
During the Cancer Moonshot Summit, Dr. Prendergast will participate in the panel "Research: The Foundation of Progress," along with other cancer specialists from Maryland, Delaware, Pennsylvania, Virginia, West Virginia and Washington, D.C. The program, developed in cooperation with the American Cancer Society and the U.S. Department of Health and Human Services, will feature a live-streamed address from Vice President Biden, as well as appearances by cancer research luminaries in academia and the industry.
"I am thrilled to participate in this important conference and to share with attendees the advances we continue to make at LIMR in cancer research, notably in cancer immunotherapy and nanotherapy," stated Dr. Prendergast.
In recent years, his LIMR research team pioneered the discovery and development of IDO inhibitors, a new class of experimental oral drugs that degrade immune barriers erected by tumors and empower a patient's immune system to attack tumors in combination with other therapies.
"At LIMR we remain committed to finding new and innovative therapies that can prognose and treat cancer. We are fully committed to the White House's Moonshot Initiative and its important work," added Dr. Prendergast.
Attendance at the Cancer Moonshot Summit at Fox Chase Cancer Center is free and open to the public, but registration is required. Visit the White House's National Cancer Moonshot Initiative website for more information.