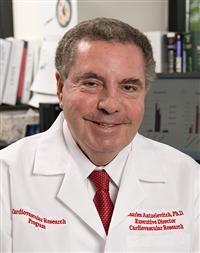 Charles Antzelevitch, PhD, FACC, FAHA, FHRS, executive director of the Cardiovascular Research Program at Lankenau Institute for Medical Research (LIMR) and director of research at Main Line Health's Lankenau Heart Institute, was named the winner of the 2016 Douglas P. Zipes Lectureship Award from the Heart Rhythm Society (HRS). He was presented the award on May 6, 2016, at a ceremony held during the 37th Annual Heart Rhythm Scientific Sessions in San Francisco. The annual award is given to an individual who has made a significant and unique contribution to the field of cardiac pacing and electrophysiology as a basic scientist, according to HRS.
Dr. Antzelevitch, a cardiovascular research scientist internationally known for his work in cardiac electrophysiology and arrhythmia syndromes, titled his lecture "Genetic, Ionic and Cellular Mechanisms Underlying the J Wave Syndromes." Dr. Antzelevitch, as well as LIMR Professor, Dr. Gan-Xin Yan, recently convened an international task force of leading experts to develop a consensus report and a book on the subject of J Wave Syndromes. The report is due to be published by June in three medical journals simultaneously.
To select the Zipes award winner, the HRS president and Scientific Sessions Program Committee Chair poll the basic science community and present a recommendation for the winner of the award to the President of the Cardiac Electrophysiology Society (CES), who makes the final selection.
Dr. Antzelevitch's recent awards and honors include the Distinguished Scientist Award from the North American Society of Pacing and Electrophysiology (currently HRS); Excellence in Cardiovascular Science Award of the American Heart Association; Carl J. Wiggers Award of the American Physiological Society; the Distinguished Scientist Award of the American College of Cardiology; and the Distinguished Service Award of CES.
Over the years, Dr. Antzelevitch has served on many HRS committees, including the Board of Trustees. His contributions to the scientific literature include more than 500 original papers, reviews and book chapters, and seven books. He currently serves as Associate Editor of HeartRhythm, the official journal of the Heart Rhythm Society and Secretary-Treasurer of Cardiac Electrophysiology Society.