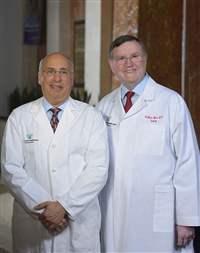 The Main Line HealthCare (MLHC) physician network is pleased to welcome William Ayers, Jr., MD, FACS and Charles Dallara, MD, FACS, of Delaware County Surgical Associates.
Drs. Ayers and Dallara, both board-certified in general surgery, have a long-standing relationship with Riddle Hospital and the community, and are known for their attentive, personalized and holistic approach to patient care. Their practice offers a range of general surgery services including open and laparoscopic abdominal surgery and hernia repair, management of benign and malignant breast and GI disease, upper endoscopy, colonoscopy and endocrine surgery.
Main Line HealthCare Delaware County Surgical Associates is located at Riddle Hospital in Suite 2507 of Health Center 2, 1088 West Baltimore Pike, Media, PA. They welcome new patients and accept most insurance plans, including HMOs and PPOs. To schedule an appointment, call 610.627.4427, or for office hours and more information, visit mainlinehealth.org/delcosurgical.