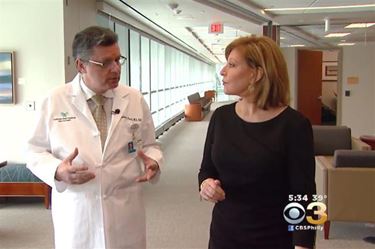 As part of CBS 3's Heart Month coverage, Dr. Konstadinos Plestis, Chief of Cardiothoracic Surgery for the Lankenau Heart Institute, discussed advances in imaging tools and the specialized equipment that allows him to access the aorta with just a four to five-inch incision.
From CBS Philly:
Every minute a woman is killed by heart disease. Today is "Go Red for Women Day," designed to reverse the deadly trend and promote healthier lives for women of all ages. Now, there is a new advance in treating heart disease.
44 million American women are living with heart disease, and millions more are at risk, and don't know it. Finding and treating it early is critical, and there have been a number of advances. One is making heart surgery a whole lot easier on patients.
Nancy Judovits uses necklaces to cover the scar on her chest, following heart surgery in December. "I'm really doing well," Nancy said. Nancy had an aortic aneurism and needed a valve replacement, which is traditionally is done with an 18 inch incision to open the chest. But, Nancy an active mom, who loves traveling, had a minimally invasive alternative.
Dr. Konstadinos Plestis is Chief of Cardiothoracic surgery, for the Lankenau Heart Institute, which is part of Main Line Health. He says, "The imaging tools specialized equipment allows him to access the aorta with four to five-inch incisions. You can barely see the incision"
Dr. Plestis is able to replace a valve exposing just a small portion of the heart. "When the incision is smaller, then the pain is less," Dr. Plestis said. "The recovery is much faster. This is a very new development."
Read the rest of the story and view the entire segment by visiting philadelphia.cbslocal.com