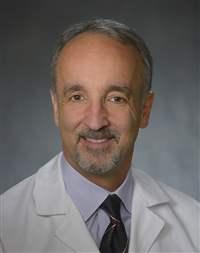 Nationally recognized cardiovascular leader will also serve as first president of Lankenau Heart Institute
William A Gray, an interventional cardiologist and nationally recognized leader in endovascular and structural cardiac medicine, has been appointed System Chief of the Division of Cardiovascular Disease at Main Line Health. He succeeds Peter Kowey, MD, who provided tremendous leadership in this role for more than 25 years. Dr. Gray has also been named the first president of Main Line Health's Lankenau Heart Institute, the System's comprehensive cardiovascular medicine and surgery program.
In his new role, Dr. Gray will continue to strengthen and enhance the medical and interventional programs offered through Lankenau Heart Institute, while preparing the cardiovascular division of Main Line Health for success in this dynamic health care landscape. In collaboration with specialists across the System, Dr. Gray will also lend his expertise in coronary, structural and endovascular interventions to expand the scope of advanced nonsurgical treatments. Dr. Gray will also be working closely with the Lankenau Institute of Medical Research (LIMR) on a variety of research projects.
"Dr. Gray's extensive knowledge and expertise in the field of cardiovascular medicine will help to enhance Lankenau Heart Institute, further positioning us as a leader of cardiovascular care in the Delaware Valley and beyond," says Lawrence Livornese, MD, the Dorrance H. Hamilton Chair of Medicine at Main Line Health. "I am confident that Dr. Gray's unique skill set and leadership experience in both clinical practice and research will serve as a true asset to Main Line Health and will benefit our patients while advancing the overall discipline of cardiovascular medicine."
Dr. Gray has served in cardiovascular leadership roles for nearly 20 years, most recently as Director of Endovascular Services at New York-Presbyterian/Columbia University Medical Center, and from 1999 to 2005 as Director of Endovascular Services at Swedish Medical Center in Seattle. In addition to his leadership positions, Dr. Gray has been instrumental in growing the field of endovascular medicine through clinical training program development and oversight. He started the endovascular fellowship program at Swedish Medical Center in 2002 and served as its director for three years. He then launched and directed the endovascular fellowship program in the Cardiology Division of Columbia University College of Physicians and Surgeons, where he most recently served as an Associate Professor of Medicine. During his tenure at New York-Presbyterian/Columbia University Medical Center, Dr. Gray's clinical practice encompassed the full range of catheter-based coronary, structural and vascular diagnostic and therapeutic interventions, including repair of structural heart defects, aneurysm management and head-to-toe arterial and venous interventions. In addition to directing endovascular services, Dr. Gray ran the mitral valve repair program, was active in the left atrial appendage closure program, and started an interdisciplinary program for management of pulmonary embolism.
In addition to his clinical expertise, Dr. Gray has significant research experience, having served as principal investigator for more than 50 clinical trials of coronary, endovascular and structural heart interventions. He often is called upon to consult on development of both device and protocol design for national multi-center clinical trials of experimental devices, which has led to his increasing role as national principal investigator. In the past 10 years, Dr. Gray has led several clinical studies leading to FDA approval or clearance for new interventional devices. Dr. Gray's contributions to scientific literature include more than 100 peer-reviewed journal articles, several book chapters, and the coauthored textbook Vascular Medicine: Therapy and Practice, now in its second edition. He is routinely asked to speak at both national and international meetings to share expertise gained through his research.
Dr. Gray is board-certified in internal medicine, general cardiology and interventional cardiology, as well as in endovascular and vascular medicine. He earned his medical degree from Temple University School of Medicine. He completed an internal medicine residency and year as chief resident at Brown University/Rhode Island Hospital, where he also completed cardiology and interventional cardiology fellowships. Dr. Gray is a fellow of the American College of Cardiology and a fellow of the Society for Cardiac Angiography and Intervention. He serves on the editorial board of JACC Cardiac Interventions and is a reviewer for several other peer-reviewed cardiovascular publications.