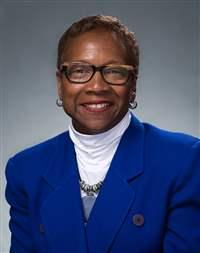 (Bryn Mawr, Pa.) – Loretta Sweet Jemmott, PhD, FAAN, RN, an expert in health promotion research and one of the nation's foremost researchers in the field of HIV/AIDS prevention, has been elected to the Main Line Health Board of Governors, effective immediately.
Dr. Jemmott serves as Vice President for Health and Health Equity at Drexel University, where she works with residents and community leaders to improve the quality of life in Drexel's neighboring communities. She is also a professor in Drexel's College of Nursing Professions, working to build the College's growing research portfolio in nursing and health profession research. Dr. Jemmott previously served as van Ameringen Professor in Psychiatric Mental Health Nursing and Director of the Center for Health Equity Research at the University of Pennsylvania School of Nursing for the past 20 years. Dr. Jemmott received her BS in nursing from Hampton University, and both her MS in psychiatric mental health nursing and her PhD in education from the University of Pennsylvania.
"We are honored to have an outstanding health care professional and community leader such as Dr. Jemmott join our Board of Governors, and we are certain she will be an asset to Main Line Health," said Steve Aichele, Board Chair. "Her interest in advancing human health and well-being within our communities supports Main Line Health's mission. Her insights and expertise will add depth to our already distinguished Board of Governors and enhance the continued success of our health system and the communities we serve."
Having been involved with over $100 million in federal funding devoted to HIV/AIDS research during the course of her career, Dr. Jemmott's NIH-funded, evidenced-based research outcomes have been used in real world settings. They have been designated for national use by the U.S. Centers for Disease Control and Prevention and the Department of Health and Human Services' Office of Adolescent Health. She has also partnered with community-based organizations, including churches, clinics, housing developments, and schools to improve the quality of life of various racial and ethnic groups in Philadelphia and surrounding communities.
Dr. Jemmott is a Fellow in the American Academy of Nursing and was also elected to the National Institute of Medicine (IOM) in 1999, an honor accorded to very few nurses.
Dr. Jemmott and her family reside in Wynnewood, Pennsylvania.