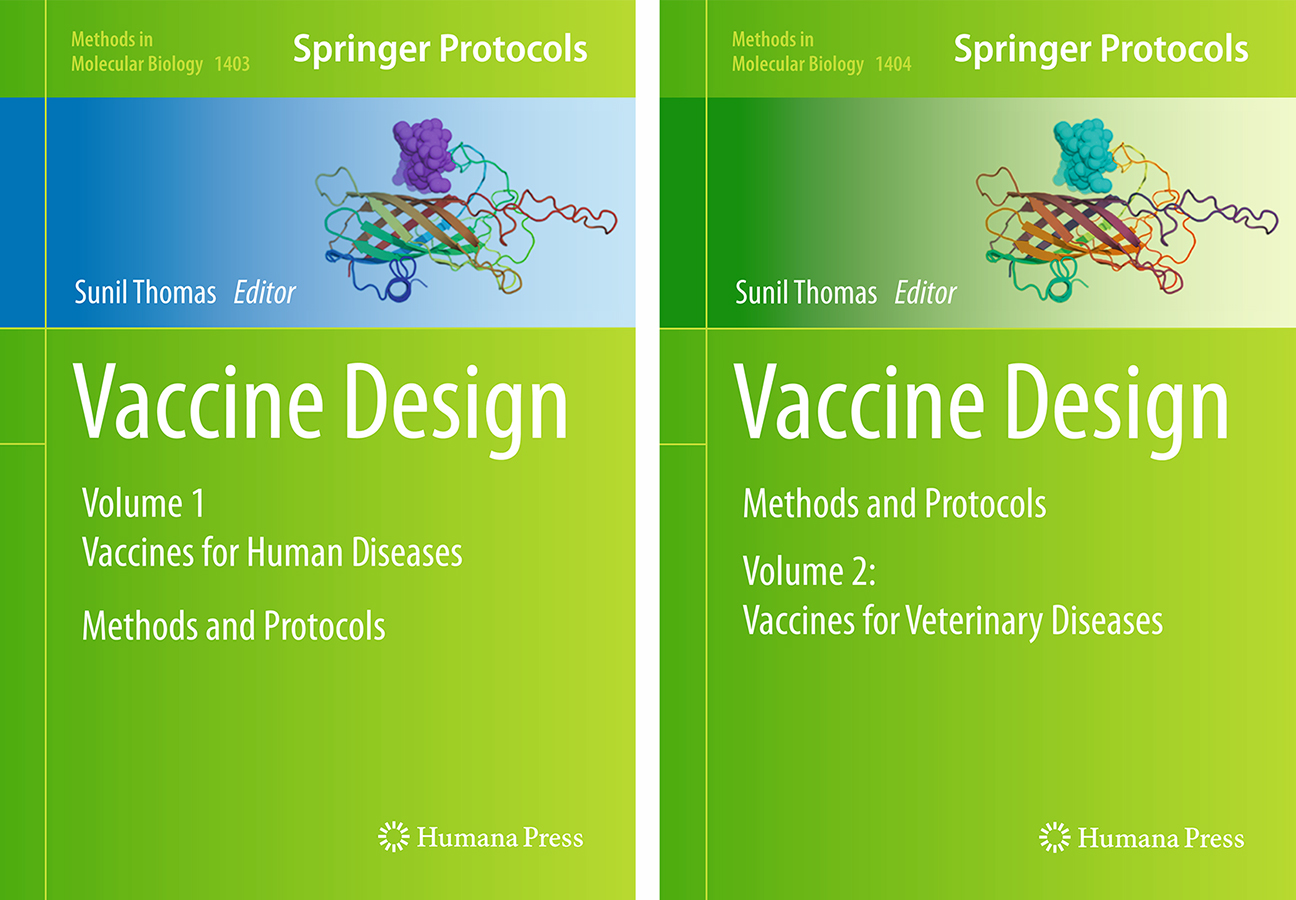 Sunil Thomas, PhD, research assistant professor at Lankenau Institute for Medical Research, will shortly release a new two-volume textbook that provides practical, step-by-step protocols for scientists and researchers working on vaccine design and development.
Vaccine Design: Methods and Protocols, published by Springer New York and edited by Dr. Thomas, aims to ensure successful results in the further study of vaccines. Volume 1 covers vaccines for human diseases caused by bacteria, viruses, fungi and parasites. It also has sections on cancer vaccines and vaccines for allergy, substance abuse and toxins. The book includes an introductory section on how vaccines impacted diseases, the immunological mechanism of vaccines, future challenges for vaccine professionals, and current trends in vaccinology.
Volume 2 covers veterinary diseases and explores vaccines for farm animals and fish, vaccine vectors and production, vaccine delivery systems, bioinformatics, regulation, and intellectual property.
Chapters contain introductions to their respective topics; lists of the necessary materials and reagents; step-by-step, readily reproducible protocols; and tips on troubleshooting and avoiding known pitfalls.
Vaccines are one of the greatest achievements of medicine, providing protection against debilitating diseases, and have spared millions of lives. Most of the diseases, including infectious disease and cancer, do not have effective vaccines for prevention. Hence, there is a need to design and develop vaccines for these diseases. The books' chapters are contributed by well-known and respected scientists in their fields. The easy-to-follow book will be of tremendous use to researchers, scientists, students and professors, as they cover most of the infectious diseases in humans and animals. The book also provides information on vaccine regulation and the importance of patents and what could be patentable. The books will be a reference guide for vaccinologists.
The texts, due to be released by Springer in March, are part of the publisher's highly successful "Methods in Molecular Biology" series. The 103-chapter, two-volume books are the largest ever in the series; more than 300 authors from all over the world have contributed.
Dr. Thomas specializes in translational research, which applies findings from basic science into medical practice. During his career in immunology, he has developed numerous therapeutic and diagnostic techniques and has been awarded several patents for his ground-breaking work.