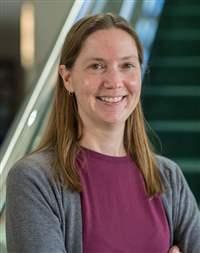 (Wynnewood, Pa.) – Laura Mandik-Nayak, PhD, associate professor at the Lankenau Institute for Medical Research (LIMR), was invited to speak at two conferences in September on the topic of her research on a gene that seems to increase inflammation and decrease the body's ability to activate its natural immunity.
Dr. Mandik-Nayak gave her talk, "IDO2, A Pathogenic Mediator of Inflammation and Autoimmunity," at the GTC Conference: Anti-inflammatory Research and Therapeutics that was held in Philadelphia. Attendees included experts from industry, academia and government agencies.
Additionally, she spoke on the same topic at the 2015 International Society for Tryptophan Research Conference, held in September in Grand Rapids, Mich. Attendees at that conference, which is held every three years, included scientists from around the globe.
Dr. Mandik-Nayak is studying the impact that the indoleamine-2,3-dioxygenase (IDO2) gene has on the disease process. Her lab's genetic studies unexpectedly revealed a specific pathogenic role for the gene, which is a recently discovered and little studied relative of the better-known IDO1 gene.
"Our research showed that IDO2 plays a critical role in actually supporting the development of rheumatoid arthritis [RA]," said Dr. Mandik-Nayak. "As such, IDO2-specific inhibitors have great therapeutic potential as new treatments for B cell-mediated autoimmune diseases that include not just RA, but also systemic lupus erythematosus and rheumatoid heart disease."
Dr. Mandik-Nayak has a broad background in immunology, with specific training and expertise in inflammation and autoimmunity. Her lab focuses on the triggering mechanisms by which the immune system becomes activated to induce autoantibody-mediated responses.
Since starting LIMR's first immunological laboratory in 2006, her work has focused on mediators driving the inflammatory autoimmune response in mouse models, with an emphasis on the immunoregulatory enzymes IDO1 and IDO2 and the small GTPase RhoB. Her work could lead to a new approach and to novel medicines for the prevention and treatment of RA and other autoimmune diseases.
Her research is funded by the National Institute of Arthritis and Musculoskeletal and Skin Diseases, a division of the National Institutes of Health.
At the GTC Conference in Philadelphia, two other LIMR scientists gave talks. LIMR President and CEO George Prendergast, PhD, gave a seminar entitled "IDO Pathway of Immunomodulation in Cancer and Cancer Therapy." And Arpita Mondal, a Drexel University graduate student who works in the laboratory of LIMR Associate Professor Alexander Muller, gave the seminar entitled "A Novel Pro-Angiogenic Role for IDO1 in Inflammatory Tumor Promotion."