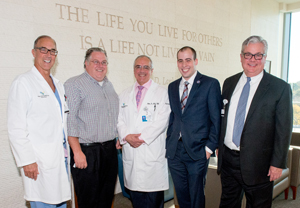 In honor of Lankenau Medical Center's 155th anniversary year, hospital leaders hosted Pennsylvania State Representative Tim Briggs, as well as Charles Boruchowitz, Director of Constituent Services for State Senator Leach, to tour new additions to the campus and to share the remarkable progression Lankenau Medical Center has made to become a regional destination for advanced care—reinforced by the recent recognition by U.S. News & World Report as one of the top five hospitals in the Philadelphia region and one of the top ten in Pennsylvania. In particular, the legislators were given a demonstration of the new da Vinci Xi robotic system, the first of its kind in the Philadelphia suburbs. They were also given a tour of the new Hybrid Operating Rooms, which are surgical "theaters" that are equipped with advanced medical imaging devices, better-enabling the surgeon to perform minimally invasive procedures, as well as the Barbara Brodsky Suites and the Shabbat Suite.
Throughout its history, Lankenau Medical Center, part of Main Line Health, has served as a premier destination for care in the Philadelphia region, as well as for patients from across the country and around the world who travel Lankenau for latest advances in minimally invasive, robotic-assisted surgery. Since celebrating its 150th anniversary just five years ago, Lankenau Medical Center has made significant advancements, including the construction of the Heart Pavilion, which now serves as a cornerstone for preeminent cardiac care by leading physicians, including Dr. Konstadinos Plestis, nationally recognized leader with particular expertise in complex aortic and valvular disease, and Dr. Francis Sutter, who has performed more coronary artery bypass graft (CABG) procedures than any other surgeon in the U.S. Over the past five years, more than 50 percent of all CABG procedures at Lankenau have been performed robotically.
"In the past five years, Lankenau Medical Center has developed our campus and facilities to reflect the superior care for which we are so well known," says Phil Robinson, President, Lankenau Medical Center. "The legacy created by earlier generations of leaders has brought us to where we are today. They've established an extraordinary foundation that we continue to build upon, and I look forward to what the next five years will bring."
Additionally, Lankenau Medical Center has expanded upon its robust clinical innovations across colorectal, gynecologic, gynecologic oncology, thoracic and urologic surgeries. Lankenau Medical Center is the only facility in suburban Philadelphia to offer the da Vinci Xi robotic system—the next frontier for minimally invasive surgery. Introduced this past spring, the da Vinci Xi enables surgeons to use a minimally invasive approach to treat patients who suffer from more complex diseases. The procedures can also save patients weeks or months of recovery time.
(L to R) Dr. Ross, Dr. Sutter, Representative Briggs,
and Charles Boruchowitz watch a surgical procedure using the da Vinci Xi robotic system. Performing the surgery is Dr. John Marks, Chief of Colorectal Surgery
at Lankenau Medical Center and renowned colorectal surgeon who has pioneered several new minimally invasive colorectal surgical techniques, such as the
robotic TATA, and is sought out by patients from
around the world.
(L to R) Dr. Marks and his team perform a minimally invasive colorectal surgery using the da Vinci Xi robotic system to demonstrate the new technology, which is the first of its kind in the Philadelphia suburbs.