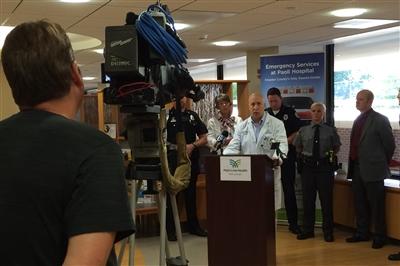 With the Labor Day Weekend approaching, on August 27, Main Line Health hosted an impaired driving media event in Paoli Hospital's Emergency Department. Represented at the program were Kris Kaulback, MD, trauma medical director, Paoli Hospital; Betsy Dwyer, Cruisin' Smart™ coordinator, Bryn Mawr Rehab Hospital; Brad Rudolph, safety press officer PennDOT Engineering District 6; Thomas Hogan, Chester County District Attorney's Office; Officer Matthew Grandizio, West Goshen Township Police Department; Trooper Samantha Minnucci, Pennsylvania State Police and Malcolm Friend, program and fund development manager, Mothers Against Drunk Driving (MADD). As part of the "Drive Sober or Get Pulled Over" effort, Pennsylvania's law enforcement will focus on drivers impaired by alcohol as well as drugs on Labor Day by setting up police check points.
According to PennDot, in 2013, there were 1,023 alcohol-related crashes in Pennsylvania with 369 fatalities in those crashes and 3,267 drug-related crashes statewide resulting in 143 fatalities. In an effort to reduce the number of crash-related deaths in the region, Main Line Health has developed outreach programs including Cruisin' Smart™, an educational program that uses true-life tragedies to instruct and change attitudes and Paoli and Riddle Hospital's Mock Crashes, a theatrical program performed on a school's campus in which a car crash caused by an impaired student driver is staged. Since opening the only Level 2 Trauma Center in Chester County in 2010, Paoli Hospital's trauma team has greatly increased the chances of crash victims being treated within the "golden hour," a window of opportunity in which rapid medical intervention can save a patient's life.
Photo: (Center) Dr. Kaulback addressed attendees about his experiences with patients and families who have been affected by drunk driving accidents. WPVI-TV6 and CBS Philly captured the event for broadcast.