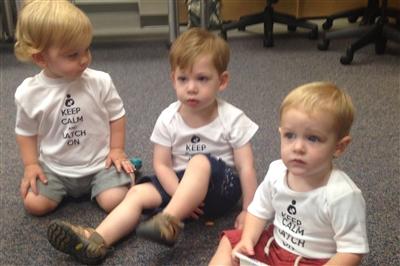 Main Line Health hospitals, including Lankenau Medical Center, Bryn Mawr Hospital, Paoli Hospital and Riddle Hospital, hosted "Big Latch On" events on August 1 to kick-off World Breastfeeding Week, August 1 to 7. A total of 56 moms gathered together at Main Line Health's four acute care hospitals to join other breastfeeding women and their children from 120 countries around the world in a synchronized breastfeeding event.
As part of the Big Latch On, all breastfeeding women and children must be latched on for one minute at a set time and are counted by witnesses. Main Line Health's numbers for this year will be added to the world's Big Latch On number to hopefully beat last year's record, when 14,536 women and their children came together across the world to breastfeed simultaneously. The Big Latch On's mission is to protect, promote and support breastfeeding women and their babies.
Donna Sinnott, board-certified Lactation Consultant and chair of the Main Line Health Lactation Committee, said the purpose of the Big Latch On is "to normalize breastfeeding, create a community in support of breastfeeding, and to simply help set a record for the most women breastfeeding at once."
Main Line Health's Big Latch On events were organized and hosted by the Nursing Mothers Alliance and the MLH Lactation Committee and sponsored by Josh Rabinowitz, DO, section chief of Nurseries at Main Line Health, the Advocare Newborn Network and the Main Line Health Department of Pediatrics.
To continue the celebration of World Breastfeeding Week, moms who deliver at a Main Line Health hospital will receive special gifts that may include World Breastfeeding Week bibs, a calendar, a candy bar and other breastfeeding items.
Main Line Health provides prenatal breastfeeding classes, as well as staff trained in breastfeeding to assist breastfeeding mothers and babies during their hospital stay. Lactation rounds are made routinely with each breastfeeding mother, and lactation support is available during the baby's hospital stay, to all breastfeeding mothers with babies in the NICU and on Pediatrics. For information about Main Line Health's maternity services, including lactation and breastfeeding support, visit mainlinehealth.org/maternity.