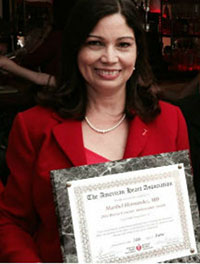 Lankenau Heart Institute cardiologist Maribel Hernández, MD, received the American Heart Association (AHA) Philadelphia Chapter's 2014 Por Tu Corazón Ambassador Award at the chapter's luncheon on June 14. This award was presented in recognition of extraordinary commitment and dedication to the AHA in the fight to build healthier lives free of Cardiovascular Disease and Stroke in the Latino Community. Go Red Por Tu Corazón promotes a heart-healthy lifestyle, nutrition and physical activity for Hispanic women, building on Latinas strong ties to family and cultural traditions. Research suggests that even without any other risk factors, Hispanic women may have an increased risk of heart disease.
"It is vitally important that we spread the word that heart disease is the number one killer in Hispanic women," said Dr. Hernández. "As an ambassador of the Por Tu Corazón program, I am able to reach Latino women right here in our community and help them learn how to reduce their risk of heart disease. I want to thank the AHA for allowing me to use my knowledge and passion to make a difference in the lives of these women. This award is a true honor."
In late June, Dr. Hernández participated on a health panel with other Spanish speaking physicians in Washington, D.C., for an educational program supporting the Hispanic community, sponsored by AmeriHealth Caritas. She was also recently honored as the 2013 Woman of the Heart at the AHA's Go Red for Women luncheon for her tireless work to promote awareness of heart disease in women. In 2012, she received the Hero of the Community award presented by radio station El Zol, 1340 AM, during Hispanic Heritage Month. She was also a speaker at the 2012 and 2013 Hispanic Choice Awards held at the Kimmel Center in Philadelphia.