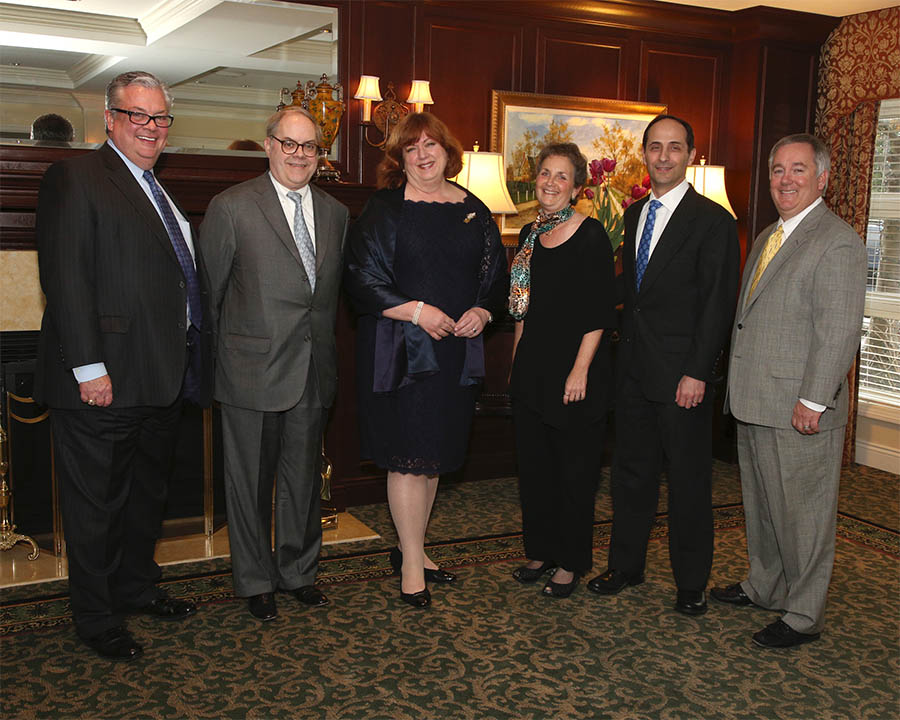 On April 23, Lankenau Medical Center held a dinner at the Philadelphia Country Club honoring Lawrence Livornese, MD, the Dorrance H. Hamilton Chair of Medicine and chairman of the Department of Medicine at Main Line Health. Keynote speaker was Marla J. Gold, MD, dean emerita and professor, Health Management and Policy, Drexel University School of Public Health.
"Thanks to the generosity of Mrs. Hamilton, the Department of Medicine is able to continue its mission of teaching, research and patient care," said Dr. Livornese. "I am honored to be the second Dorrance H. Hamilton Chair of Medicine, an endowment that underscores the importance of providing superior patient care to our community."
The endowment was established in 2009 and provides ongoing financial support in perpetuity for an academic medical staff leadership position. In his role as the Dorrance H. Hamilton Chair of Medicine, Dr. Livornese is responsible for developing, aligning and deploying the extensive talent and competencies of the Department of Medicine across all Main Line Health campuses in support of clinical, academic and research missions of the system.
Prior to his official appointment, Dr. Livornese had been serving as interim chair of the Department of Medicine since 2012, while also fulfilling his roles as Lankenau Medical Center's Campus Chief of Medicine and Chairman of Infection Control, clinical assistant professor of Medicine at Drexel University School of Medicine, and partner, Delaware Valley ID Associates.
In photo (from left): Lankenau Medical Center President Phil Robinson; LMC Foundation Board of Trustees Chairman Alfred Putnam; Nancy Wingo, Executive Director of The Hamilton Family Foundation; keynote speaker Marla J. Gold, MD; Dr. Livornese, and Main Line Health President and CEO Jack Lynch.