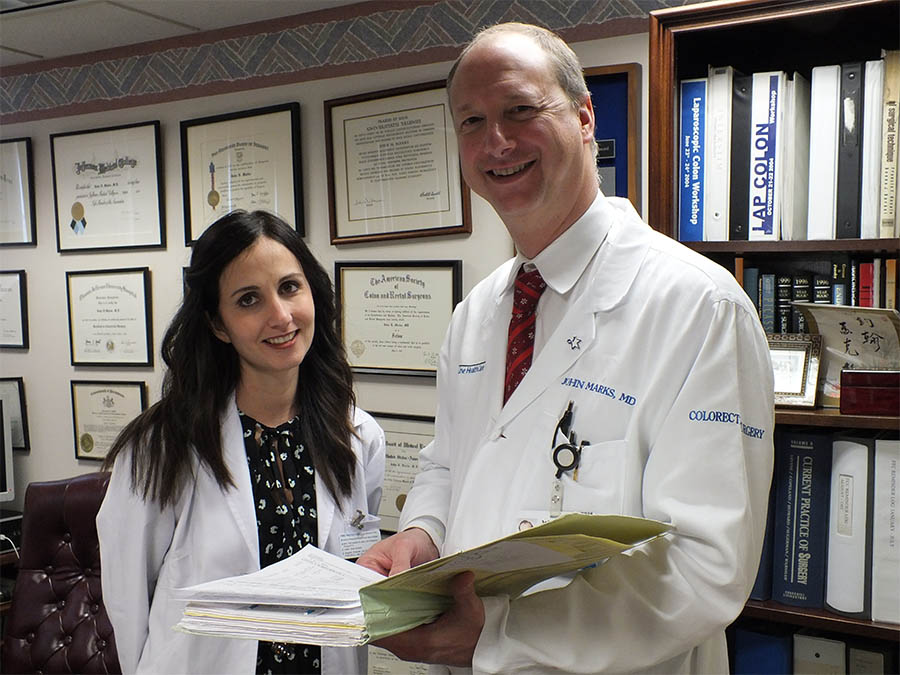 A breakthrough rectal procedure that spares colon function, which was developed by John Marks, MD, medical director of the Colorectal Cancer Program at Lankenau Medical Center, continues to receive attention from surgeons around the world.
To learn how to cure rectal cancer without the need for a colostomy bag and even minimal scars, Dr. Itzel Vela, surgical oncologist at the National Cancer Institute of Mexico in Mexico City, came to work with Dr. Marks for a month. Dr. Marks was an invited professor at the National Cancer Institute in Mexico this past fall. While there, Dr. Marks presented three lectures on Lankenau's minimally invasive colorectal surgical and robotics program and performed a live laparoscopic colorectal surgery televised to several hundred physicians attending a conference there. Following his visit to her hospital, Dr. Vela, who is in charge of spearheading minimally invasive colorectal surgery at the National Cancer Institute, was so impressed by Dr. Marks' work at Lankenau that she and her hospital director arranged for her to visit and learn from him for a month.
"After witnessing Dr. Marks' expertise at our hospital, I asked him if I could come to Lankenau to train under him so that I could bring this innovative procedure using robotics back to my patients," said Dr. Vela. "Since I have been at Lankenau, I have been able to observe not only the TATA procedure but also Dr. Marks' innovative approach to patient care. I treat a lot of patients with colorectal cancer—this breakthrough procedure would enhance the lives of so many in my country, allowing them to live without a colostomy bag."
Dr. Marks is honored that the TATA procedure is having such a global reach. "To change the lives of so many colorectal cancer patients by avoiding a colostomy is very gratifying. Dr. Vela's visit is an example of how we can foster growth of this technique not only throughout the U.S., but also in other countries," explained Marks.
Dr. Vela can now take her knowledge back to the National Cancer Institute of Mexico for approval to begin performing the TATA. She hopes to perform the procedure this summer.
Dr. Marks, an international leader in the field of colorectal surgery, has performed over 2,000 minimally invasive colorectal procedures and treated over 1,000 rectal cancer patients, who come from across the country and around the world to be cured of their cancer and avoid a colostomy bag. He performs several other surgical techniques, including Transanal Endoscopic Microsurgery and Single Incision Laparoscopic procedures for patients with a diagnosis rectal or colon cancer. For more information about these procedures at Lankenau Medical Center, call 1.866.CALL.MLH (1.866.225.5654).