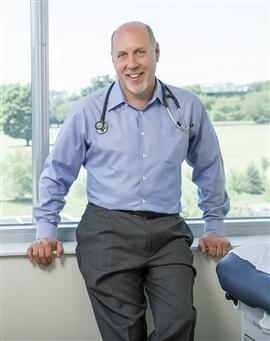 Main Line Health (MLH) has named Eric "Rick" Mankin, MD, president of Main Line HealthCare (MLHC). In this role, Dr. Mankin will oversee Main Line Health's growing, multi‐specialty employed physician practice.
In welcoming Dr. Mankin, Jack Lynch, president and CEO of Main Line Health stated: "Dr. Mankin's extensive knowledge of complex health care system operations and medical management, coupled with his clinical background and deep understanding of ambulatory care and clinically integrated physician networks, fully equip him for this new challenge as president of Main Line HealthCare."
Dr. Mankin has more than 20 years of health care leadership experience with clinical and operational management and a strong commitment to quality and patient safety. Since 2003, Dr. Mankin has served as chief executive officer and chief medical officer for Temple Physicians, Inc. (TPI), the community-based physician practice arm of Temple University Health System (TUHS). Under Dr. Mankin's leadership, the physician network grew from a start-up primary care practice to a large, integrated multi-specialty group with over 400 employees in 42 offices across the Philadelphia region. Through his strategic vision and collaborative approach, Dr. Mankin built a network of physician partners focused on achieving shared goals around quality, customer service, information technology, and system-wide service line development.
In addition to his role as CEO and CMO of TPI, Dr. Mankin has served in numerous other health care leadership roles, including medical director for TUHS Medical Management and vice president of Network Development for TUHS. Before joining TUHS, Dr. Mankin served as a partner in the Southern California Permanente Medical Group, as a family physician for HealthSpring Medical Group, and as Medical Director for MetraHealth (United) Health Plan.
Andrew Norton, MD, chief medical officer of Main Line Health, added that, "Dr. Mankin's expansive experience in both health care management and clinical expertise will enhance the capabilities and strength of Main Line HealthCare and ensure our continued success in fulfilling Main Line Health's long-standing mission of providing a superior patient experience."
A graduate of Haverford College and Temple University School of Medicine, Dr. Mankin completed his family practice residency at Middlesex Memorial Hospital in Connecticut. His professional activities include serving on the Independence Blue Cross Physician Advisory Board, Health Partners Medical Advisory Committee and a variety of pharmaceutical and therapeutic committees.