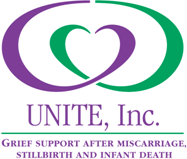 UNITE recognizes that parents need to grieve following the death of their baby through emotional support and parent–to–parent sharing on issues related to their loss. Even when the child's life was brief, parents feel the normal, painful, response of grieving. This can be particularly lonely when the baby was not yet known to family and friends.
We invite anyone who has experienced a miscarriage, ectopic pregnancy, stillbirth, or infant death to attend our free monthly UNITE Support Group. This group is guided by a trained facilitator, but the meetings are not group therapy sessions. UNITE can assist in referral if additional professional support is needed.
This group is associated with Lankenau Hospital and meets the 3rd Tuesday of each month.
Note to newcomers: Please call ahead to confirm the meeting is occurring as scheduled.
For more information, contact Paris Margaritis, Facilitator, at 484.758.0002.