Join the 2020 Philadelphia Heart Walk Digital Experience!
At Main Line Health, we are committed to improving the heart health and overall wellness of our employees and their families, our patients and the community. Mark your calendars and join Main Line Health as we participate in the American Heart Association (AHA) Philadelphia Heart Walk Digital Experience
Friday, November 6 I Time: 1:00 PM
Location: Wherever You Are
The Philly Heart Walk is part of a collaborative, nationwide event to raise awareness and funds to support the AHA's mission of building healthier lives free of cardiovascular disease and stroke, the #1 and #5 killers of all Americans. This year's digital experience will raise dollars that fund research and programs in response to COVID-19, and address access to food and care inequities in Greater Philadelphia.
As the Greater Philadelphia Go Red for Women sponsor, we've made significant strides in advancing the AHA's mission. With your help, we can continue this progress.
DON'T MISS OUT ON THIS YEAR'S MAIN LINE HEALTH T-SHIRT!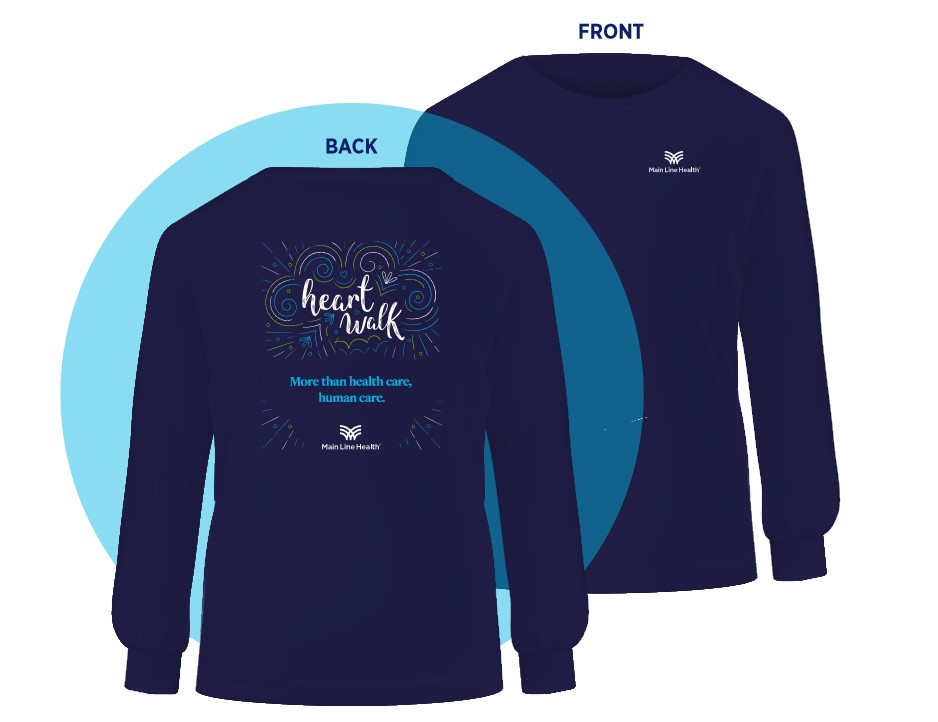 REGISTER AS A WALKER ONLINE AND MAKE A $25 DONATION TO A MLH TEAM
BY OCTOBER 23 TO RECEIVE A MLH T-SHIRT!
*NOTE: If you or anyone on your team makes a donation, but DO NOT register as a walker, you will NOT be eligible to receive a MLH T-shirt.
Information about T-shirt distribution and pick-up location(s) will be communicated to Team Captains and Register Walkers the week of October 26. If you have questions in the meantime, please contact Caitlin Petrakis at petrakisc@mlhs.org.
Create your profile
Set a personal fundraising goal, kick off your efforts with a personal gift if you would like, click "next"
Follow the prompts!
Thanks to you, Team Main Line Health raised over $134,000 last year. These funds have helped advance transformational research and local community education programs right here in Philadelphia.
To become a team captain, register as a walker, or start a team page, visit Main Line Health's Heart Walk page, or for questions contact our Heart Walk Director, Regina Jolly at Regina.Jolly@heart.org.