At Main Line Health, we are committed to improving the heart health and overall wellness of our employees and their families, our patients and the community. Mark your calendars and join Main Line Health as we participate in the American Heart Association (AHA) Philadelphia Heart Walk on Saturday, November 2, 2019 at Citizens Bank Park.
The Philly Heart Walk is part of a collaborative, nationwide event to raise awareness and funds to support the AHA's mission of building healthier lives free of cardiovascular disease and stroke, the #1 and #5 killers of all Americans. The Heart Walk promotes physical activity and healthy-living while creating a fun environment for everyone. As the Greater Philadelphia Go Red for Women sponsor, we've made significant strides in advancing the AHA's mission. With your help, we can continue this progress.
Join us at an upcoming Main Line Health kick off meeting!
Facility
Kick-off date
Location/room
Berwyn/Malvern
August 15 at 1:00 pm
Berwyn Offices
Bryn Mawr Hospital
August 22 at 11:00 am–1:00 pm
Cafeteria
Bryn Mawr Rehab Hospital
September 5 at 2:00 pm
Conference Room 5
Lankenau Institute of Medical Research (LIMR)
September 20 at 11:00 am
LIMR
Lankenau Medical Center
September 9 at 3:00 pm
Sara Senior Conference Room
or via Bridge Line 484.565.8127
Main Line HealthCare
August 15
Newtown Square Manager's Meeting
Mirmont Treatment Center
September 20
Administrative Suite
Main Line Health Center in Newtown Square
TBD
TBD
Paoli Hospital
TBD
TBD
Radnor Corporate Center
TBD
TBD
Riddle Hospital
September 9, 8:00 am
Board Room
Don't miss out on this year's Main Line Health t-shirt! Register as a walker online and make a $25 donation.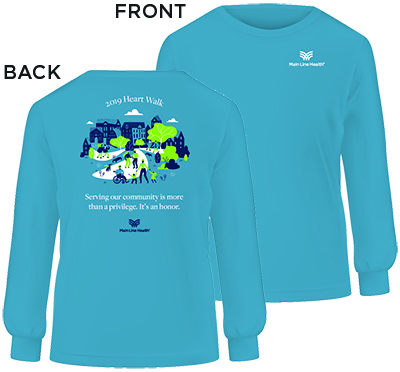 You must register online as a walker and make a $25 donation to a Main Line Health team by October 1, to be guaranteed a Main Line Health T-shirt.
To join our team or to create your own team, visit the Main Line Health's Company Heart Walk page and follow the instructions below:
On the left, click on "Start a Team" or scroll down and click on "Join" next to Team Main Line Health
Create your profile
Set a personal fundraising goal, kick off your efforts with a personal gift if you would like, click "next"
Follow the prompts!
If you can't attend, you can still join Main Line Health in the fight against heart disease by making a donation or fundraising. Thanks to you, Team Main Line Health was one of the top three fundraising teams, raising over $132,000 last year. These funds will be allocated for health screenings, cardiac research, heart disease education and other initiatives that will improve the health of our communities.
To become a team captain, register as a walker, or start a team page, visit Main Line Health's Heart Walk page, or for questions contact Heart Walk Director Michelle Mockus at 215.575.5211 or michelle.mockus@heart.org.