Ready. Set. Run for Riddle!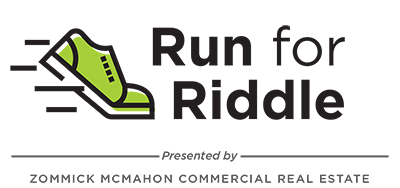 Riddle Hospital is excited to announce the first-ever Riddle 5K: Run for Riddle and Family Fun Walk! This family-friendly event supports the Riddle Hospital Neonatal Intensive-Care Unit (NICU), which specializes in the care of ill or premature newborn infants. Each year, Riddle proudly delivers exceptional maternity and level II NICU care to nearly 1,000 mothers and their babies. Families across our service area know they can trust their tiniest patients to the skilled team of caregivers who dedicate themselves to service in the NICU.
Supported by an energetic committee drawn from across the Main Line Health family of employees, nurses, physicians, board members, and auxilians, we anticipate more than 200 runners and walkers to participate in this fun community event. Please consider running, walking or donating to this event—and, in doing so, help to ensure the health and well-being of every baby born at Riddle!
On-site registration opens at 7:30 am
Free Tot Trot at 8:15 am for kids age 5 and under
Race starts at 8:30 am
Registration costs: $30 regular fee after September 15 and on Race Day
After the run, join us for the Seventh Annual Family Fall Fest at Riddle Hospital.
Would you like to be a sponsor for the Run for Riddle? Please click on the button below to learn more and thank you for your support!
Submit your sponsorship online
If you'd prefer to mail in your form with a check, you can use the following sponsorship form (PDF) as well.
Sponsor deadline is Saturday, September 1, 2018. Should you have any questions, please feel free to contact Gina M. Lee, associate director of development, Riddle HealthCare Foundation, at 484.227.4701 or leegi@mlhs.org.
We'd like to extend a special thanks to our major sponsors and generous supporters.
Run for Riddle 5K committee
Co-chairs: Amy Smith and Rosemarie Mason
Associated Auxiliaries member: Mrs. Janice Duryea
Race Director: Gina M. Lee
Committee members: Amanda Arrighetta, Courtney Ballauer, Ron Coqueron, Ericalea Decker, Kevin Fagan, Marguerite Fritsch, Cindy Gutzler, Melissa Huggins, Jason Kitchen, Susan Krassow, Tim Krueger, Keith Laws, Gina Lee, Concetta Murray, Eileen O'Brien, Paul Padien, Michael Reasbeck, Amarjit Singh, Kat Torregrossa, Karen Ann Rawlings, Phil Schmidt, Judy Smith, Jennifer Spencer, and Daphnée Theodore