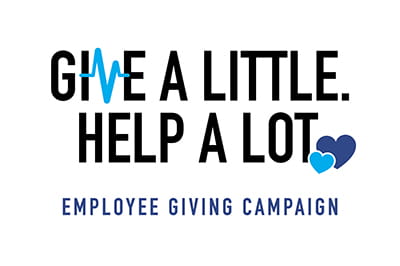 A HUGE thank you to the 2,030 staff members who supported the 2018 campaign! Altogether, we raised $455,226 in support of 127 different funds to benefit our patients. These totals are more than just numbers on a page—they speak to a genuine, deep-seated commitment to our non-profit mission.
Special shout-out to the campaign committee, made up of dozens of front-line staff who voluntarily promoted the campaign across the system. We couldn't have done it without you!
Please call 580.4195 or email Abbie Mahala with questions.
Thank you for your kind consideration and support!
Previous campaign results
2017
2,433 employees donated
$473,631 total given
84 committee members
2016
2,372 employees donated
$463,115 total given
90 committee members
2015
2,497 employees donated
$507,103 total given
88 committee members
2014
2,334 employees donated
$426,030 total given
86 committee members
2013
2,240 employees donated
$419,209 total given
83 committee members
2012
1,967 employees donated
$400,152 total given
82 committee members