Why medication-assisted treatment for opioid addiction
Medication-assisted treatment (MAT) for opioid addiction uses a combination of counseling and behavioral therapies to treat opioid use disorders. MAT has been scientifically proven to lead to better treatment outcomes. According to the Substance Abuse and Mental Health Services Administration (SAMHSA), MAT helps to stabilize brain chemistry, block the effects of illicit opioids, and alleviate physical opioid withdrawal symptoms.
Talk to us - click to call 1.888.CARE.898 (227.3898)
Not ready to make the call? Contact us online.
Outpatient medication-assisted treatment for opioid addiction is now being offered in Broomall, Pennsylvania, in the western suburbs of Philadelphia. We treat patients with opioid use disorders who are:
Interested in starting on medication-assisted treatment for opioid addiction
Currently with another provider and wish to transfer
Stepping down from an inpatient facility and want to continue medication-assisted treatment
Our medication-assisted treatment for opioid addiction involves use of Suboxone, Vivitrol and Sublocade. (We do not prescribe methadone.)
At Mirmont we take a whole-person approach to treatment and recovery, meaning we have a comprehensive treatment team of professionals offering a wide range of evidence-based services to address the physical and mental health needs of our community.
How medication-assisted treatment for opioid addiction works
MAT for opioid addiction is not substituting one drug or addiction for another. The reason MAT has been so effective is that it helps you transition from dependency on opioids by alleviating some of the difficult withdrawal symptoms you may go through as opioids leave your body.
During withdrawal, patients who live with opioid addiction often experience cravings (for more of the drug) and feelings of sickness.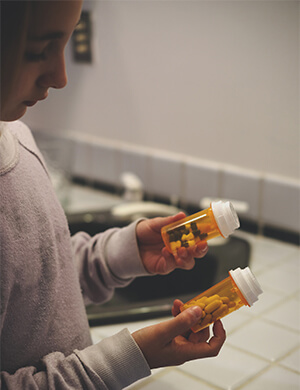 MAT relieves cravings and withdrawal symptoms so that you can more easily engage in life activities and things you enjoy doing—rather than being pulled away into addictive feelings and behaviors. When overseen by a medical professional, MAT is a safer, more effective way of treating opioid addiction, with less discomfort and fewer side effects.
In the Mirmont outpatient program, we treat patients ages 14 and up for opioid addiction. One of the many benefits of our MAT program is that we integrate other supports such as counseling and group therapy sessions. We believe that medication alone is not enough to effectively treat substance use disorder. Addiction takes a toll physically and mentally. While medication is effective in treating the physical symptoms of opioid addiction, therapy allows patients to address its emotional and mental effects. 
What to expect from MAT for opioid addiction
Your first visit will be with an intake coordinator, who will meet with you to discuss the best treatment options for you based on multiple health and lifestyle factors.
Bring to your first visit:
Your photo ID
Insurance card
Co-payment for your visit
An intake appointment does not guarantee you will be accepted into MAT. That decision is up to the prescribing provider based on their assessment of your condition.
If we are unable to get you into the program on the day of appointment, another appointment will be given on the next available day, Monday through Wednesday.
When you begin the program, you will be required to come in weekly at the discretion of your doctor.
Your appointments will be adjusted:
Once you are stable on your dose of medication (determined by our clinical team based on your opioid use history, previous experience with MAT, and a comprehensive physical exam)
You have demonstrated regular attendance at therapy sessions
Why you need to be in mild withdrawal before beginning MAT
If you are not in mild withdrawal before beginning medication-assisted treatment for opioid addiction, you are at risk of putting yourself into severe withdrawal when you take your first dose of medication. To determine your level of withdrawal, we use the Clinical Opiate Withdrawal Scale (COWS). A COWS screening will be conducted before you enter the MAT program.
If at the time of screening you are not in mild withdrawal, you may be asked to be screened again at a later date and to postpone your entry into the program.
Drug testing in MAT for opioid addiction
As part of the program and in compliance with Pennsylvania state regulations, any person being treatment with MAT has to have a minimum of a monthly urine screen. Screening may be conducted more frequently at the discretion of our providers and staff.