Health Equity and COVID-19 Vaccines
Due to a history of racism, disparity and inequity within the health care delivery system, there is entrenched distrust among many within Black and LatinX communities and significant skepticism about the COVID-19 vaccines.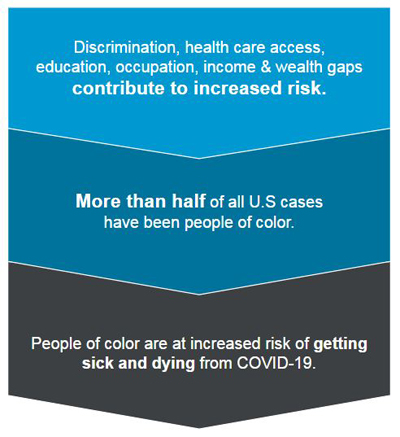 At Main Line Health, we are committed to health equity and ensuring that everyone has access to the information, education and resources they need to learn more about vaccination and to be vaccinated, if they so choose. A team of employees and medical staff from across Main Line Health meets on a regular basis to develop education and outreach strategies to engage people who have questions and concerns about COVID vaccination. Hear more from some of those leaders who talk about the importance of vaccines and their decision to get the shot.
Hear from Dr. Chaparro-Rojas and Rosangely
Mira en español aquí
Ultimately, vaccination is a personal decision and we respect everyone's choice about whether or not to receive a vaccine, but we want to ensure that information and vaccination reaches communities that are disproportionately affected by this virus.
Leveraging community partnerships to address vaccine hesitancy
Main Line Health is a proud member of Together for West Philadelphia, a group that brings together community, public and private sector stakeholders to maximize impact in the areas of health, education, food access and opportunity for residents of West Philadelphia. In a recent video, Congressman Dwight Evans and other members of the Together for West Philadelphia group address concerns regarding vaccination, the importance of research and understanding the science behind the COVID vaccine.
Watch Together for West Philadelphia video
We are committed to continuing to work with our community partners, including Together for West Philadelphia, to address concerns about COVID vaccination and make a difference in communities who have been disproportionately affected by COVID-19. You can view more resources and information on this topic here:
Diversity in COVID-19 Clinical Trials
One of many concerns among communities of color has been whether the clinical trials for coronavirus vaccines have included diverse groups of people. People of different races and ethnicities sometimes respond differently to pharmaceutical treatments and these groups have been underrepresented in clinical trials in the past.
For the Pfizer and Moderna vaccines we are administering at Main Line Health, there was diversity in both clinical trials. You can view information about clinical trial demographics for the Pfizer vaccine and Moderna vaccine.
Register for MyChart
Main Line Health is utilizing MyChart patient portal to schedule vaccinations for eligible patients. If you are a Main Line Health patient and do not have a MyChart account, we invite you to register.