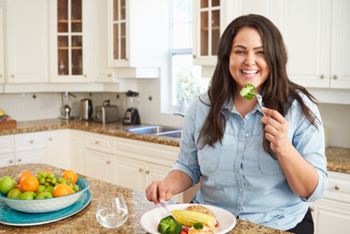 Pre-diabetes can be a confusing term, and an even more confusing diagnosis, for the millions of individuals affected by it. Does this mean I have diabetes? Does it mean I will have diabetes? How does this affect my lifestyle?
But, despite its name, pre-diabetes can be good news: Individuals who are diagnosed with pre-diabetes are given the unique opportunity to take control of a potentially dangerous health issue.
"Pre-diabetes occurs when an individual's blood sugar is higher than normal, but not high enough to qualify as Type 2 diabetes," explains Nirav Mehta, MD, cardiologist at Paoli Hospital, part of Main Line Health's Lankenau Heart Institute. "Although it is not a diabetes diagnosis, it is a call to action for patients who are at high risk for diabetes to take control of their risk factors."
Those risk factors can include a combination of factors that you can control, like carrying excess weight, particularly in the abdominal area, inactivity, and poor sleep habits, and those you can't—like age, race, family history, and a personal history of health problems like polycystic ovarian syndrome and gestational diabetes.
So, if you've been diagnosed with pre-diabetes, or the above risk factors sound familiar to you, what can you do to take control of pre-diabetes and prevent an eventual diabetes diagnosis?
"Although there are diabetes risk factors that you can't control, focusing on a healthier lifestyle after a pre-diabetes diagnosis can go a long way in preventing diabetes and managing your health," says Dr. Mehta.
Make better diet decisions
By shedding 10–20 pounds, many individuals with pre-diabetes can help change the course of their health and avoid an eventual diabetes diagnosis. A diet rich in fruits, vegetables, and whole grains, or the Mediterranean diet is typically recommended for patients with diabetes, but you can work with a dietitian to develop a plan that's customized for you.
Get moving
Exercise is a free and relatively simple prescription for helping you shed the pounds necessary to reverse—or manage—your pre-diabetes. Focus on exercising at least 30 minutes per day to accelerate your heart rate, whether it's with daily walks in the neighborhood or at the gym on the elliptical. A certified trainer of physical therapist can help you put together a plan that's right for you.
Make more appointments
You may have been a stranger to the doctor's office before, but start making annual visits a priority. If you've been diagnosed with pre-diabetes, you'll want to make sure you're making (and keeping!) regular appointments with your primary care physician or endocrinologist to ensure that you're on track to a healthier lifestyle and keeping your pre-diabetes under control.
By making steps to improve your health following a pre-diabetes diagnosis, you can help prevent the potentially dangerous complications of diabetes, from heart disease to vision loss.
"It's important to remember that pre-diabetes does not mean diabetes is inevitable. It's an opportunity to take control of your health," says Dr. Mehta.
If you have questions about your risk for diabetes, talk to your primary care physician or cardiologist, who can help you manage your risk. For patients with diabetes, Main Line Health offers Diabetes Management Programs that are designed to help patients avoid the acute and chronic conditions that can result from diabetes and to learn how to monitor and maintain ideal blood sugar levels through diet, exercise and medication. Visit our website to learn more about our Diabetes Management Programs.