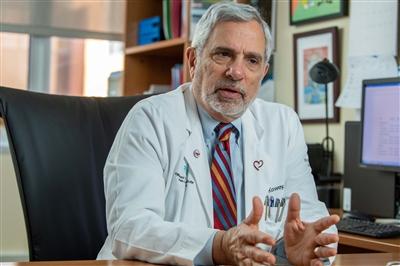 It was Lankenau Institute for Medical Research's (LIMR) enormous good fortune to recruit cardiologist Peter Kowey, MD, who brought an impressive global reputation in patient care, a commitment to research and a generous spirit, the breadth of which grew ever larger during his career here.  

Dr. Kowey graduated from the University of Pennsylvania Medical School and trained in cardiology at the Peter Bent Brigham Hospital (now Brigham and Women's Hospital) and the Harvard School of Public Health before spending nine years as an academic cardiologist at the Medical College of Pennsylvania. During the next 25 years, Dr. Kowey and his dedicated staff turned Lankenau Medical Center into the internationally renowned heart care hospital that it is today. He has been a powerful influence not only at Lankenau and Main Line Health, but also in the field of cardiology around the world. Here at LIMR, he helps advance basic and clinical cardiovascular research. 

Although he stepped down as chair of cardiology in 2015, Dr. Kowey, who holds the William Wikoff Smith Chair in Cardiovascular Research at LIMR, continues to advance health care through his myriad research endeavors and unwavering dedication to training the next generation of physicians. 

Q: Throughout your career you've retained a strong commitment not just to patient care, but also to research and scholarly activity. Why have those latter activities been especially important to you? 

Dr. Kowey: Because they have a ripple effect. Taking care of patients is, of course, very important. But in that endeavor, a doctor sees one patient at a time. By doing research and teaching, I can magnify my impact. It's very gratifying for me to know that the research I've done has led to the development of new drugs, devices and procedures, many of which are now the standard of care for patients around the globe. 

For example, I was the principal investigator for the clinical trials of intravenous amiodarone, a drug we use to treat arrhythmias. We began with preclinical research and continued through clinical trials and then to FDA approval. Today, amiodarone is the most commonly used drug for cardiac arrhythmias in the world. Literally hundreds of thousands of patients feel better and live longer because of that drug and many other agents we helped to develop.

I'm still doing research. I consult with the FDA and industry on drug development, and not just for heart disease, but also for experimental drugs for cancer, gastrointestinal disorders and other conditions. Many of those drugs have cardiovascular risk that I've helped pharmaceutical developers understand and effectively address. 

Q: You've had a tremendous influence on an entire generation of cardiovascular specialists. Why is physician training a driving force in your work?
Dr. Kowey: When you train the next generation of doctors, it impacts patients everywhere. Our trainees are disbursed around the world. I've been able to influence two generations of physicians: the generation I trained at the beginning of my career, and those more recently in training. Over the course of my career, I've trained thousands of fellows, residents and students, and taught legions of practicing physicians. Best of all, I continue to be active, helping with the fellowship program at Lankenau. I still see patients, much of the time with a fellow or student at my side.

Q: When you do get free time, how do you like to spend it?
Dr. Kowey: As many people know, I enjoy creative writing; I've penned five medical mystery books. The fifth, "Death by Your Own Device," was published by iUniverse in March. I've increasingly donated time to institutions I love. For example, I'm a member of the Board of Trustees at St. Joseph's University. And I spend as much time as possible with my wife, Dorothy, who is my best friend and confidant, and my family. I have six grandchildren, ages 12 to 20, who live in Boston and California, so we have those places as our preferred travel destinations. I also stay physically active, hiking, skiing, cycling, and playing golf and tennis. Dorothy and I stay very busy.  
Lankenau Institute for Medical Research (LIMR) is a nonprofit biomedical research institute located on the campus of Lankenau Medical Center and is part of Main Line Health. Learn more about our research team, clinical trials and more.