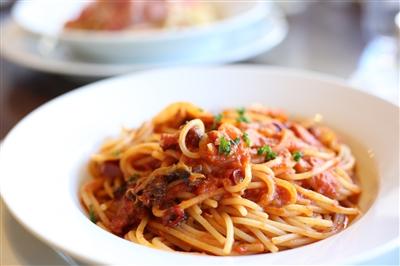 As side or main dish, this classic combo of tomatoes and basil is always a crowd pleaser. Summertime tomatoes are so delicious fresh and sliced in sandwiches and salads that we forget that we can cook them too. Tomatoes are rich in the phytonutrient lycopene which is a carotenoid responsible for the pink to red color in fruits and vegetables. Lycopene has been linked to disease reduction from cancer to heart disease but that shouldn't be the reason to enjoy tomatoes in every way.
Ingredients
1 tbsp olive oil
 2 cloves garlic, minced
1 shallot, chopped
½ cup red pepper, chopped
1 large or 2 small summer Jersey or beefsteak tomato, chopped
1 tbsp capers, drained
¼ Kalamata olives, chopped
Pinch of salt and pepper
¼ cup red wine (optional)
½ cup fresh basil leaves, chopped
2 servings of any type of pasta, cooked
Garnish: grated parmesan cheese (optional)
Instructions
While the pasta is boiling, heat the olive oil over medium heat in a large sauté pan, one that has a lid (which you'll use at the end). 
In the olive oil, sauté the garlic and shallot until fragrant, about 1 minute. Add the red pepper and sauté until it's slightly soft, about 2 minutes. 
Reduce heat to medium-low, and add to the pan the chopped tomato, capers, olives, salt and pepper. Cook, stirring occasionally until the tomato starts to release its juices. Reduce heat to low and add the wine (if using). Cover the pan for 3 minutes. This will reduce the wine but leave its flavor. 
Remove the lid, stir in the basil, and simmer the sauce on low for about 1 minute. Spoon the sauce over the cooked pasta and, if using, garnish with parmesan. 

Recipe submitted by Donna Loyle