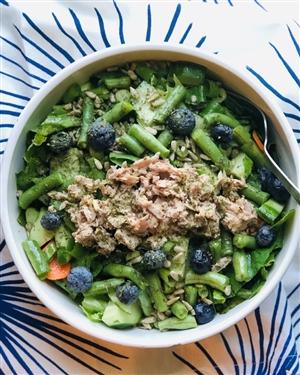 Greens and blues go together in this summertime version of a tuna salad. Adding blueberries to a mix of summertime greens-lettuces and fresh green beans makes a savory, sweet and juicy salad combination. Loaded with the antioxidants and phytonutrients of blue (anthocyanins) fruit and green (lutein and zeaxanthin) vegetables makes it a nutrient powerhouse, too.
Ingredients
1 Romaine lettuce heart, washed/dried and chopped
1 small carrot, coined or shredded
½ cucumber, skin intact or peeled, chopped
1 medium scallion, chopped
½ cup fresh green beans, halved and blanched
1 tbsp sunflower seeds kernels
1/4 cup fresh blueberries
2 oz canned tuna, drained
A pinch of salt
2 tbsp white balsamic vinegar
2 tbsp avocado oil 
Instructions
Layer lettuce, carrot, cucumber, scallion, green bean, blueberries, sunflower seeds, and tuna.
In a small bowl, mixing balsamic vinegar, avocado oil, and salt.

Recipe submitted by Rose Tucci