If you're feeling inspired to grow some of your own food, you're not alone. "People are increasingly curious about where the food that they put into their bodies comes from and how it is grown," says Jen Malkoun, farm manager and educator at the Deaver Wellness Farm at Lankenau Medical Center, part of Main Line Health.
That, coupled with more time at home and many of us finally having the opportunity to try some DIY projects, has led to a renewed interest in growing fresh produce and herbs at home. But what if you have limited space—or you lack gardening experience? Not to worry, says Malkoun.
"There is a misconception that a garden needs to be sprawling or that you need a lot of space to grow, but there are many herbs and vegetables that can be grown in a small amount of space or even on sunlit windowsills. If you're new to growing your own food and perhaps feel a bit intimated, try approaching it as an experiment; observe, reflect and tinker. Growing food is equal parts empowering and fun!"
What you need to know to grow your own herb garden
First, figure out where you'd like to build your herb garden—indoors or outdoors? While both options are effective, there are reasons to choose one or the other.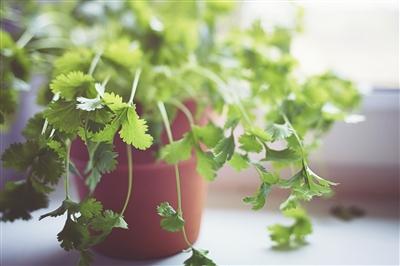 Indoor gardens are ideal for anyone with limited outdoor space or people who may not be able to access outdoor areas due to physical limitations. The benefit of an indoor herb garden is that it offers easy access and is not weather-dependent, but these also typically yield less of a harvest and may not get as much sunlight as outdoor gardens. If you do choose to plant indoors, try to find an area that gets at least six hours of sunlight per day.
If you are growing in small pots on a windowsill, be sure to keep an eye on the soil moisture. Smaller pots exposed to direct sunlight will dry out more quickly. The soil should be moist but not drenched--think of a sponge.
Outdoor gardens offer the benefit of more space and sunlight and, as a result, herbs grown outside can be more flavorful and produce a higher yield. However, you'll also have to contend with weather and pests, so keep that in mind as you make your decision. And, if you choose an outdoor garden, wait until after the final frost of the spring to plant. You can find out when the final frost is in your region online.
When it comes to choosing a container to plant in, almost any container will do. "You can grow vegetables and cooking herbs in flower pots, food-safe buckets and other recycled food-safe containers you may have around the house," says Malkoun. "Just make sure the container has drainage holes in the bottom."
And what about a growing medium? The good news is that many herbs don't require much fertilizer, especially hardy perennials like oregano, thyme and mint. A simple mix of a good quality potting soil intended for long-term potted plants and a bit of garden compost will do the trick. If you're not sure about what container to use, your local garden center can offer you some guidance and also help you choose the right soil.
Finally, it's time to decide what herbs you want to plant. Some common herbs that are easy to plant and maintain include annuals like basil, cilantro, dill and parsley, as well as perennials like thyme, rosemary, mint, sage, chives —but the list of what you can plant is endless! Consider what herbs you use most often (a quick peek into your spice cabinet might help) and start there. For more advice on what to grow, Malkoun recommends checking out online seed vendors like Johnny's Selected Seeds or High Mowing to figure out what grows best together and in your region.
The health benefits of growing your own herb garden
You might not think of growing your own herbs as being a healthy activity. But the health benefits of doing so are numerous—not the least of which is having fresh ingredients on hand to add flavor to your recipes instead of using pre-packaged sauces, marinades or salt.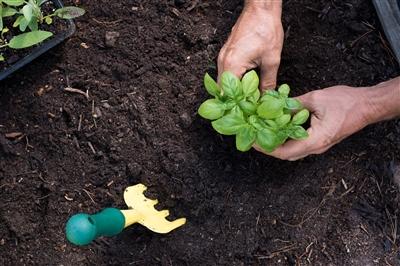 If your herb garden is outside, it also means you'll be spending more time in the sun. That means more Vitamin D, a nutrient that contributes to good bone health. This is especially important for adults over 65 who, for a variety of reasons, may not get as much Vitamin D as younger people. Gardening can also improve motor skills. The act of digging, potting, watering and harvesting plants requires precise work with your hands which can be especially beneficial for people who are recovering from a stroke or injury. 
Besides all of that there's an emotional and mental health component to gardening, too. 
"Gardening can be incredibly fulfilling," explains Pam Young, HTR, horticultural therapist at Bryn Mawr Rehab Hospital, part of Main Line Health. "Knowing that you had a hand in planting, caring for and harvesting something can be an empowering feeling."
That's the concept behind horticultural therapy, which is offered to patients at Bryn Mawr Rehab. Patients take part in interactive activities like planting seeds and watering or repotting plants, all of which can improve mobility, balance, endurance, memory and social skills.
Get started!
If you're nervous about getting started, remember: Gardening is a low-risk activity to try and you don't have to a green thumb to get started. Deciding to grow your own herb garden can bring great results but, if you don't get it right on the first try or your yield doesn't turn out as you hoped, you can make adjustments and try again.