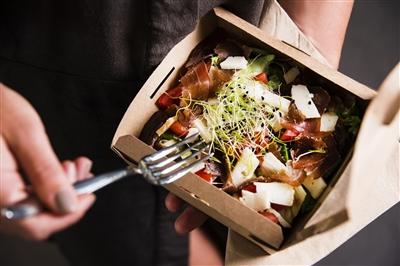 In a time when you have limited access to a grocery store or want to have a night away from the kitchen, Main Line Health's Ashley McCorkle, RDN, LDN has take-out tips for healthier meal when ordering out.
Have a plan: If you know you want to enjoy something rich or creamy for a meal, try to keep your other meals lighter. Take time to review the whole menu, you can find healthy foods almost anywhere. As you scan the menu, always try to keep balance in mind: look for whole grains, lean proteins, healthy fats, and fruits and vegetables when making your decision.
Portion control: Take-out portions can be two or three times the recommended serving size, even if it's not advertised as such. If possible, split an entrée with someone, or as soon as you received you order, portion out one or two servings to enjoy at another time.
Piece your meals together: If you're worried about not have enough nutrients in your order, add items from home. For example, if you order a breaded chicken with a starchy side, top a salad with the chicken and save the starchy side for another meal.
Don't order hungry: Just like it's said that you shouldn't grocery shop when you're hungry, don't order when you are overly hungry either. It's easy for your eyes to be bigger than your stomach if you do! Eat regular meals throughout the day and avoid "saving room" for your take-out meal—this can make you hungrier.
Ask questions: Don't be afraid to call an establishment and ask questions or make requests. For example, get sauces and dressings on the side or ask for grilled chicken instead of breaded chicken. 
Put safety first: During this unprecedented time, make sure you practice social distancing and maintain a distance of six feet, whenever possible. Wash your hands regularly and disinfect frequently touched surfaces often.
With more time at home, many people are taking the opportunity to try new recipes or cook meals they may not otherwise have the time to do after a busy day. If you're looking for new recipes to try, check out our archive of healthy meals for some inspiration. 
Main Line Health serves patients at hospitals and health centers throughout the western suburbs of Philadelphia. To schedule an appointment with a specialist at Main Line Health, call 1.866.CALL.MLH (225.5654) or use our secure online appointment request form.