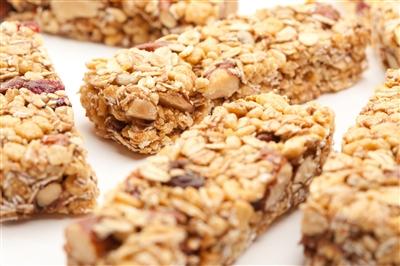 It doesn't take a magician to make a standard recipe more nutritious. "The key is to incorporate small changes gradually," says Lynn W. Nichols, RD, LDN, CDE, a medical nutrition therapist at Riddle Hospital, part of Main Line Health. For instance, replace a cup of butter with a half-cup of butter and half-cup of applesauce. Make additional tweaks to other ingredients, such as sugar, each time you make the dish. "This approach helps everyone adjust to change," Nichols says. "You'll be pleasantly surprised by how much your family enjoys the healthier version."
Number of servings: 20 bars
Ingredients
1½ cup low-fat granola
½ cup all-purpose flour
1 cup uncooked quick oats
¾ cup dried tart cherries, deseeded
⅓ cup slivered almonds, toasted
2 tbsp. vegetable oil
¼ cup firmly packed brown sugar
2 egg whites, slightly beaten
½ tsp. ground cinnamon
⅓ cup honey
Instructions
Preheat oven to 350 degrees. Line bottom and sides of an 8x8x2-inch baking pan with foil. Lightly spray the foil with nonstick spray.
Combine granola, oatmeal, cherries, flour, almonds, and cinnamon in a large mixing bowl. In a separate bowl, stir together egg whites, honey, brown sugar, and oil. Stir egg mixture into granola mixture until all is coated. Press mixture evenly into the prepared pan.
Bake in preheated oven for 20 to 25 minutes, or until mixture is light brown. Let cool completely. Cut into bars.
Nutrition information (per serving)
Calories: 148
Total fat: 4 grams
Carbohydrates: 26 grams
Cholesterol: 0 milligrams
Sodium: 24 milligrams
Total sugars: 14 grams