Do you think of bike riding primarily as a spring or summer sport? Those who are hardy enough to attempt year-round cycling may find that riding well past summer and into fall brings its own unique rewards.
"I enjoy watching the leaves change color and seeing how the woods look in a different season. It's also very pleasant to ride when the weather turns cooler, as long as you manage your clothing correctly," said Jonathan Dwyer, PT, DPT. Dwyer is a physical therapist with Bryn Mawr Rehab, part of Main Line Health, as well as an experienced road and mountain cyclist.
To help you smoothly transition to fall and winter cycling, he offers these five tips:
Dress in layers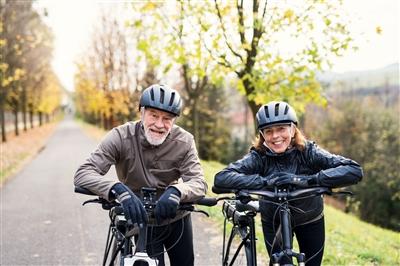 Temperature-wise, you never really want to be comfortable in your clothes as soon as you walk outside. If you are, you are likely to overheat once you get moving. Choose bike clothing that can be layered, such as vests, arm warmers and leg warmers, which provide warmth and adjustability. Add cycling gloves for cooler weather which—unlike their more breathable summer counterparts—are made from windbreaker fabric to reduce wind chill on your hands.
Manage moisture
When the weather turns damp, choose a rain jacket that is breathable and water-repellent, rather than one that is completely waterproof. This can help you avoid getting soaked in sweat from a lack of ventilation. Look for a lightweight, packable rain jacket that you can toss into a backpack or bike pouch. Cycling-specific rain jackets are cut lower in the back to protect you from road spray when you are leaning over your bike. Consider slipping a pair of waterproof overshoes on top of your cycling shoes to keep your feet protected.
Adjust to lower light conditions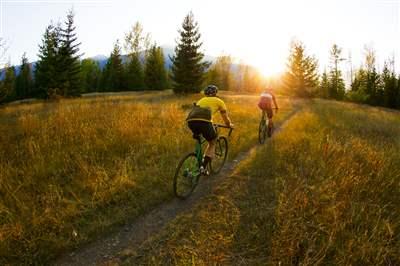 As the days grow shorter, your after-work bike ride may have you cycling after dark. Be aware of when the sun sets if you prefer not to ride past dusk. This time of year it's a good idea to change your eyewear from shaded glasses to clear, so you are still protected from debris without compromising your vision. Be sure you are visible to drivers in low light by wearing reflective gear and putting lights on the front and rear of your bike. You'll find products today that light up everything from bike to rider, head to toe.
Be mindful of slippery surfaces
Wet leaves on road surfaces can significantly impair traction, especially when cornering at high speeds. By dropping the tire pressure a bit, you can widen your contact patch between tire and road and gain some additional traction. Dropping between 5 and 10 PSI (pounds per square inch) is usually enough, but stay within the manufacturer's recommended tire pressure (found on the tire) for your safety. When cycling off-road, stay mindful of trail conditions. In the fall when there is less sunlight and heat, trails that don't drain quickly can get boggy and slippery, which can be hazardous to both cyclists and the trails that get damaged by deep tire ruts. If you can manage a steeper, rockier ride, you'll find those trails typically drain much faster.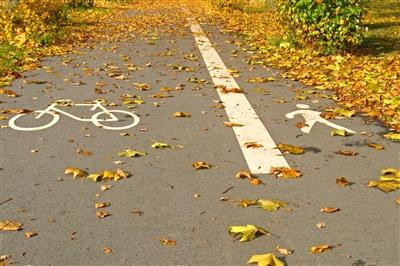 Protect your bike from corrosion
For diehard cyclists who are committed to riding past autumn into winter, there's one more peril you'll need to keep in mind: salt. Once the salt trucks start treating the roads, be prepared for salt spray to coat your bike. To prevent corrosion, take the time to clean your bike and re-oil the parts.
If you are a cycling enthusiast who doesn't want to give up time on your bike, the good news is that with some adjustments to your biking equipment and routine, you can safely transition through each season and keep enjoying the ride.
Main Line Health serves patients at hospitals and health centers throughout the western suburbs of Philadelphia. To schedule an appointment with a specialist at Main Line Health, call 1.866.CALL.MLH (225.5654) or use our secure online appointment request form.