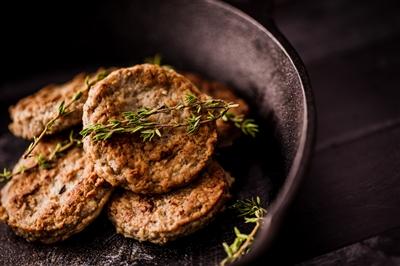 Makes eight servings
Ingredients
1 lb ground pork
2 tsp ground sage
2 tsp sugar or sugar substitute
1 tsp dried, crushed basil
1½ tsp black pepper
¼ tsp ground red pepper
Instructions
In a large bowl, mix all ingredients together.
Divide mixture into eight equal portions and form into individual patties.
Spray a pan with non-stick cooking spray and heat over medium-high heat.
Add sausage patties to pan and cook until browned, about three to five minutes on each side. Extra patties may be wrapped and frozen for later.
Nutritional facts per serving
Calories 133
Protein 11 g
Carbohydrates 2 g
Fat 9 g
Cholesterol 40 mg
Sodium 31 mg
Potassium 171 mg
Phosphorus 98 mg
Calcium 18 mg
Fiber 0.3 g
Source: DaVita