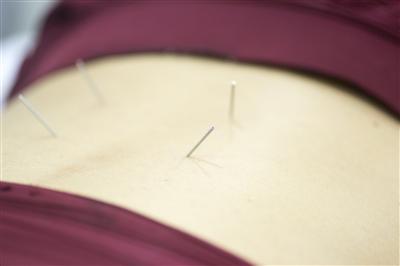 Some describe it as a heavy, relaxed sensation, like your body goes completely limp as you're lying there, right after a skilled clinician, such as Robert Denitzio, MD, a functional and integrative medicine doctor at Main Line Health, has carefully guided ultrafine filament needles into the skin at specific "trigger points"—areas in the soft tissue or fascia that become "knotted" with pain that is often difficult to diagnose and treat. The needles are able to stimulate muscle and tissue not just for pain relief but for improved mobility as well.
People seek out dry needling treatments for relief from everything from sports injuries ranging from rotator cuff, shoulder and arm pain as well tension headaches, neck pain, low back pain and anything from the waist down.
For people seeking alternative pain management for chronic pain, dry needling treatment is one of the evidence-based alternatives to painkillers being used in combination with hands-on therapies by integrative MDs and osteopathic physicians.
What does dry needling do?
Dry needling treatment (also called trigger point therapy) is not to be confused with acupuncture as essentially the procedure evolved from "injection therapies," in which a substance is injected into muscle or tissue to promote healing and reduce pain. Dry needling on the other hand involves insertion of needles into precise trigger points without any injection material, hence the term "dry." If you've ever had a myofascial release massage treatment, in which the practitioner's hands knead the fascia to work out those painful areas, the trigger point approach is similar. With dry needling, however, the use of ultrafine needles allows for even greater precision in targeting the "sweet spots," out from which pain is being transferred.
"When I'm giving dry needling treatments, I'm able to feel exactly what's going on in the soft tissue," explains Dr. Denitzio. "The needle insertion gives me immediate feedback that's not available through an MRI or CT scan. It's actually a very personalized procedure in which we're usually able to get to the root causes of a person's pain, break up existing pain patterns, and stimulate and re-educate the tissues and muscle in that area."
What does dry needling feel like?
Because the needles themselves are so thin, most people feel only gentle pressure and insertion rather than pain. The goal of the dry needling treatment, however, is to access the trigger point(s) with the needles, which means eliciting the "twitch response." This is done by carefully inserting the needles to a certain point to provoke the specific pain you've been experiencing. In this way, the practitioner can tell that they've hit upon the exact trigger point and the're in the precise location for the treatment. This might feel like a quick electric shock or a muscle cramping sensation, but it usually comes and goes very quickly and is followed by the heavy, relaxed sensation described earlier.
"The goal of the dry needling treatment is to access trigger points with the needles, which means eliciting the 'twitch response.' This might feel like a quick electric shock or a muscle cramping sensation, but it usually comes and goes very quickly, and is followed by a heavy, relaxed sensation."
Needles are usually inserted in surrounding areas as well since pain is often travels from the original location. The dry needling specialist assesses your body's response to treatment and gently inserts the needles in and out.
You will likely feel some soreness after dry needling treatment, similar to having worked out at the gym, and you may have some bruising at the needle insertion areas. Heat or ice packs can help calm and soothe after treatments and any discomfort should subside pretty quickly, within one to two days.
"We usually see pretty good response to dry needling within two to three sessions," says Dr. Denitzio. "Short-term relief is often felt within the first 24 to 48 hours and complete relief, in which there is disruption of old pain patterns, is often accomplished within a few weeks."
Are there any dry needling dangers to be concerned about?
When working with a provider with vast experience and training in dry needling technique, the risks of dry needling treatment are very low. Nonetheless, there are a few risks for certain groups of people, including anyone with:
Active infection – The primary risk is of infection so certain conditions are contraindicated (should be avoided), such as if you have skin lesions or an infection in the skin or body.
Allergic reaction – Your provider will also ask you about allergies to nickel or chromium (most dry needles are made of these materials), but if you are allergic, silver- or gold-plated needles can be used instead.
Abnormal bleeding – If you are on blood-thinning medications or you have a bleeding disorder, your provider may need to be extra cautious about dry needling in certain muscles in order to avoid excess bleeding.
Vascular disease – If you have any type of vascular disease, including varicose veins, dry needling treatment is not recommended.
Cost of dry needling
At the Main Line Health Concordville, your first evaluation and treatment is $200 and return visits are $125. Dr. Denitzio will gauge your progress and discuss length of treatment with you. Dry needling services are most often combined with other therapies you're receiving to manage pain and mobility.
To schedule an appointment with an integrative and functional medicine specialist at Main Line Health, call 484.227.7858.
Main Line Health serves patients at hospitals and health centers throughout the western suburbs of Philadelphia. To schedule an appointment with a specialist at Main Line Health, call 1.866.CALL.MLH (225.5654) or use our secure online appointment request form.