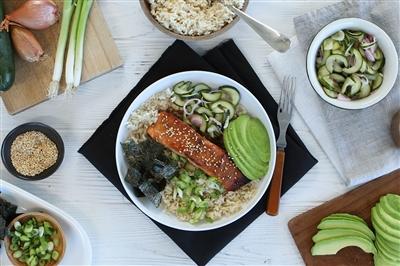 Prep time: 10 minutes
Cook time: 10 minutes
Ready in: 20 minutes
Serves: 4
Ingredients
For the pickled cucumbers:
1 cup rice wine vinegar
1 cup water
¾ cup granulated sugar
1 tablespoon kosher salt
1 garlic clove, thinly sliced
1 medium shallot, sliced thin
1 cucumber, thinly sliced
For the salmon:
½ cup white miso
2-inch piece of ginger, peeled and grated
½ cup mirin
2 tablespoon rice wine vinegar
¼ cup low-sodium soy sauce
2 tablespoons honey
1 teaspoon toasted sesame oil
4 (8-ounce) wild salmon filets
Olive oil cooking spray
For the bowls:
2 cups cooked brown rice
2 ripe avocados, sliced
1 sheet nori, sliced into 1/2" wide strips
1 tablespoon toasted sesame seeds
2 green onions, white and light green parts only, thinly sliced
Instructions
Combine vinegar, water, sugar and salt in a medium saucepan over high heat. Bring to a boil, then remove from heat. Add garlic, shallot and cucumber slices to saucepan, stirring and pushing down to ensure they are completely submerged. Let cool to room temperature, then transfer cucumbers and liquid to airtight container. Store in refrigerator until ready to serve.
In a small bowl, whisk together miso, ginger, mirin, vinegar, soy sauce, honey and sesame oil until combined. Pat salmon dry with paper towels and place in a small baking dish. Pour half the marinade over salmon, turning to coat all sides. Cover and refrigerate for 30 minutes. Reserve remaining marinade in the refrigerator.
Preheat oven to broil. Line baking sheet with foil and coat with olive oil cooking spray. Remove salmon from refrigerator and place skin side down on prepared baking sheet. Broil for 4–5 minutes, until salmon is cooked through and glaze is caramelized.
To assemble bowls, divided cooked brown rice evenly among four bowls. Pour remaining marinade over rice. Top each bowl with salmon filet and garnish with pickled cucumbers, avocado, nori, sesame seeds and green onion.