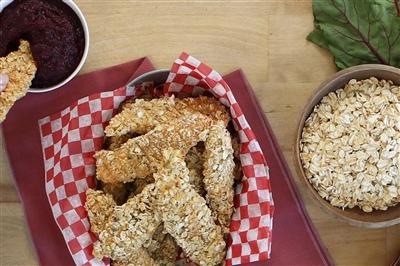 Prep time: 10 minutes
Cook time: 40 minutes
Ready in: 50 minutes
Serves: 4–6
Ingredients
For the beet ketchup:
4 medium beets, peeled
½ cup apple cider vinegar
¼ cup packed light brown sugar
½ small yellow onion, diced
1 clove garlic, minced
1 tablespoon grated fresh ginger
½ teaspoon Worcestershire sauce
½ teaspoon kosher salt
½ teaspoon black pepper
½–¾ cup water
For the chicken:
1 ½ cups old-fashioned rolled oats, divided
1 teaspoon smoked paprika
1 teaspoon kosher salt, divided
1 teaspoon black pepper, divided
½ cup Parmesan cheese, grated
1 tablespoon fresh thyme, minced
2 large eggs, beaten with 2 tablespoons water
1 pound boneless, skinless chicken tenders
Olive oil cooking spray
Instructions
Preheat oven to 400°F. Wrap beets individually with foil and place on baking sheet.Roast in oven until tender, 15–20 minutes. Remove from oven, peel back foil and let cool slightly.
When cool enough to handle, cut beets into quarters. Add beets to small saucepan with apple cider vinegar, brown sugar, onion, garlic and ginger. Bring to boil over medium-high heat, then reduce heat to medium-low. Simmer for 20 minutes, until beets are tender. Remove from heat and let cool slightly.
Add beet mixture, Worcestershire sauce, salt and pepper to bowl of food processor. Turn on food processor and slowly pour in water until puree is smooth and creamy. Ketchup can be stored in refrigerator in an airtight container for up to one week.
While beets cook, prepare chicken tenders. Add rolled oats to bowl of food processor and pulse until oats are roughly chopped. Remove 1 cup and process remaining oats until they reach flour-like consistency. Combine oat flour with smoked paprika and ½ tablespoon each salt and pepper in a wide, shallow bowl.
In another wide, shallow bowl, combine chopped oats with Parmesan, thyme and remaining salt and pepper. In third bowl, add beaten eggs.
Set cooling rack into rimmed baking sheet and coat with cooking spray. Pat chicken tenders dry with paper towels. Working one at a time, dip chicken tenders in oat flour mixture, then egg. Let excess egg run off chicken, then coat in the oat-Parmesan mixture. Place chicken on cooling rack and spray top with olive oil. Bake in oven for 10 minutes. Remove from oven, flip chicken over, spray with olive oil and return to oven for 10 more minutes, until internal temperature reaches 165°F.
Serve chicken hot with beet ketchup dipping sauce.
Nutrition facts (per serving)
Servings: 6
Calories 291
Total Fat 6.0 g (8%)
Saturated Fat 2.0 g (10%)
Cholesterol 93mg (31%)
Sodium 774 mg (34%)
Total Carbohydrate 28.7g (10%)
Dietary Fiber 4g (14%)
Total Sugars 11.9g
Protein 29.1g
Vitamin D 3mcg (15%)
Calcium 84mg (6%)
Iron 3mg (17%)
*The % Daily Value (DV) tells you how much a nutrient in a food serving contributes to a daily diet. 2,000 calorie a day is used for general nutrition advice.