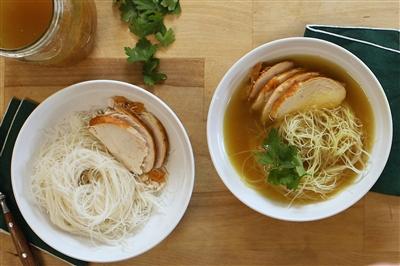 Prep time: 10 minutes
Cook time: 8-12 hours
Ready in: 12 hours
Serves: 4-6
Ingredients
1 rotisserie chicken
1 head garlic, halved
1 large yellow onion, quartered
2 large carrots, roughly chopped
1 pound chicken wings
2 tablespoons apple cider vinegar
1 tablespoon ground turmeric
4 inch piece ginger, chopped into 1/2 slices
4 sprigs fresh thyme
4 sprigs fresh rosemary
1 tablespoon whole black peppercorns, crushed
Cold, filtered water
1 teaspoon kosher salt
Fresh parsley, for serving
Vermicelli noodles, for serving
Instructions
Preheat oven to 425°F. Remove breast and thigh meat from chicken and refrigerate until ready to serve. Place chicken carcass on baking sheet with garlic, onion, and carrots. Roast in oven until golden, 20-25 minutes.
Add roasted chicken and vegetables to large, heavy stock pot, including any browned bits on the pan. Add chicken wings, apple cider vinegar, turmeric, ginger, thyme, rosemary, and peppercorns. Add enough water to cover ingredients by 3 inches.
Bring water to a soft boil over high heat, then reduce heat to low. Simmer uncovered for 8-12, periodically skimming off fat. Add more water as needed to keep bones covered. Stir in kosher salt 10 minutes before end of cooking.
Fill sink or large roasting pan with ice water. Strain broth through fine mesh strainer into a low, wide container and set container in ice bath to quickly cool. Cover and store in refrigerator for up to one week, or in freezer for up to one year.
Before serving, remove fat that has solidified on top. Reheat in saucepan over medium heat. Enjoy plain or serve with reserved chicken meat and vermicelli noodles.
Nutrition facts (per serving)
Servings: 6
Calories: 13
Total Fat: 0.1g <1%
Saturated Fat: 0.0g
Cholesterol: 0mg 0%
Sodium: 28mg 1%
Potassium: 111mg 3%
Total Carbohydrates: 2.5g <1%
Dietary Fiber: 0.7g 3%
Protein: 0.4g <1%
Sugars: 1g
Vitamin A: 1669IU
Vitamin C: 2mg
Calcium: 20mg
Iron: 0mg
Thiamin: 0mg
Niacin: 0mg
Vitamin B6: 0mg
Magnesium: 7mg
Folate: 9mcg
(Not including vermicelli noodles)
*The % Daily Value (DV) tells you how much a nutrient in a food serving contributes to a daily diet. 2,000 calorie a day is used for general nutrition advice.